Twitter ERUPTS: Baba Rahman 'excellent' display for Chelsea gets Blues fans raving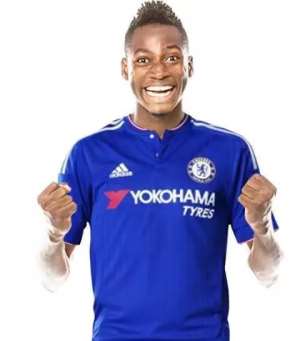 Baba Rahman
Ghana and Chelsea defender Baba Abdul-Rahman has received rave reviews on Twitter following his impressive display in the FA Cup 5-1 win over fourth round game against Milton Keynes Dons.
The Black Stars right-back played his first game under interim boss after being sidelined since the departure of Jose Mourinho.
Rahman was growing in confidence when Mourinho was sacked and it was thought the departure of the Portuguese could boost his playing chances.
That dwindled drastically with the Ghanaian left on the bench or totally out of the squad in matches since Hiddink took over.
A good performance on Sunday has boost his chances of staying in the Chelsea squad and capturing a permanent place in the Blues squad.
Below are some of the comments by the Chelsea fans on Twitter following the FA Cup win over MK Dons
http://ghanasoccernet.com/ghana-defender-baba-rahman-impresses-in-first-start-under-guus-hiddink-as-chelsea-score-five
Baba Rahman is a BEAST!!!!! This is a massive threat for Azpi's position IMO !!! #CFC #BeastModeOn
— Moe Obaid (@Moe_CFC) January 31, 2016
Baba Rahman has had an absolute blinder, what a player
— Ray (@BackingChels) January 31, 2016
Baba Rahman has been absolutely brilliant for Chelsea against MK Dons, really good performance from him at LB. Deserves more minutes.
— NM (@ffsRooney) January 31, 2016
so baba rahman is even good and mourinho kept lying to us by keeping him on the bench.
— Chidiebere Ogu (@chyngyozil) January 31, 2016
Impressed with Baba Rahman, every time — Joey (@JoeThe_Show) January 31, 2016
baba rahman is brilliant !! better than azpi ! — تاتو بتاع طبية (@tattoelahlawy) January 31, 2016
Baba Rahman has been impressive along the left flank, he should definitely play this role more often. #CFC — Uzzy (@020ne) January 31, 2016
Baba Rahman is a very good footballer. Simple! — J. N. Halm (@JNHALM) January 31, 2016
Baba rahman playing soo well...I thought he was playing left midfield at a moment
— samuel ashalley (@ashalleysam) January 31, 2016
Baba Rahman is my man of the match against MK Dons. Brutal performance by the Ghanaian. #FACup — Bayonle Arashi (@midassoccer) January 31, 2016
@ParkedTheBus Baba Rahman has been the best of the youngstars today. RCL n Traore need to work on their movements
— Tendai Mupangwa (@TMupangwa) January 31, 2016
Brilliant performance by Baba Rahman as well! Everyone's in top form!! What a sight 💙 #KTBFFH
— Hassaan. (@Hasni_10) January 31, 2016
Baba Rahman is good when going forward and his crosses are at least better than Ivanovic #Chelseafc
— Ola Aina!! (@drinkkwater_) January 31, 2016
Baba Rahman has been great going forward 👏🏾👏🏾
— Ken (@Kenny_OVOXO) January 31, 2016