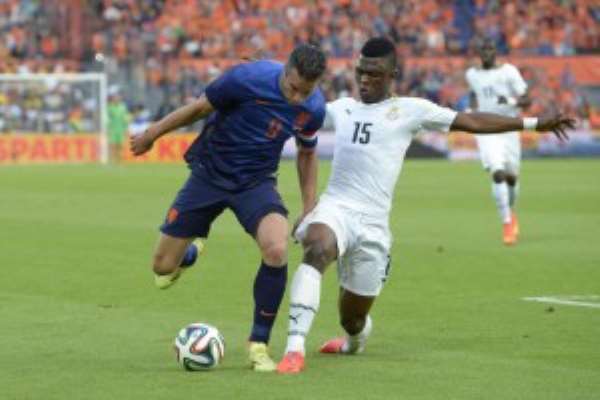 Black Stars defender Rashid Sumaila has vehemently denied using Juju to afflict Jerry Akaminko ahead of the 2014 FIFA World cup as being widely circulated.
The Kuwait-based centre back has been accused of using black magic to oust Jerry Akaminko from the Ghana's 23-man squad so as to cement his place in the trip to Brazil.
The former Kotoko defender has however distanced himself from such an evil act as it goes contrary to his religious beliefs.
"My religion preaches against the use of juju for material gains. It is unacceptable in my religion to employ juju just to make wealthy gains. What do I stand to gain if I choose to inflict an injury on a colleague player?
'More to the point Jerry's arrival was not going to be a threat to my position in anyway. One beautiful concept about Allah is His patience and I believe the truth will be unraveled very soon. I am completely innocent about the whole thing and can't explain why it has been leveled against me", Rashid innocently noted.
"The God I worship is watching us all and I can swear with my life and even with my career if I have to do it. If that will prove the truth in this painful case, I will.
It is a false allegation but I know how to handle him for denting my image. I know nothing in this case and remain completely innocent.'
'But we are under the control of the Almighty Allah. If I have juju why not using it to get a starting berth in the team rather than the bench role?"
Malam Isaka Salia a spiritualist based in the Western Region had claimed that the former Sundowns defender had consulted him to use black magic to assist him to be named in the squad for the fiesta.
By: Sheikh Tophic Sienu @desheikh1