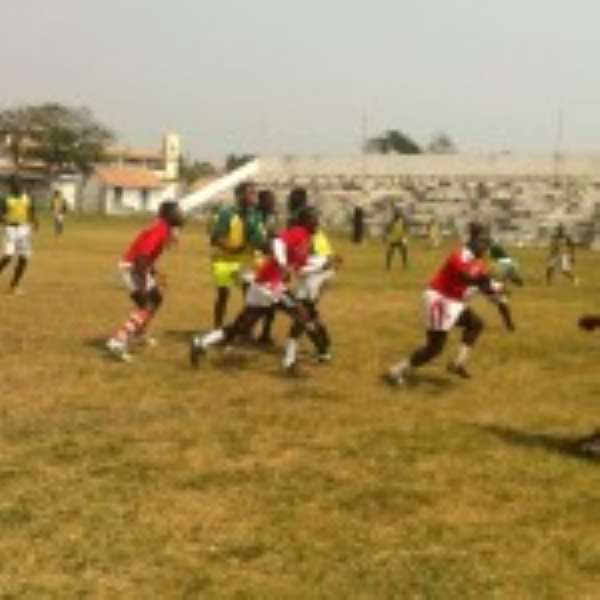 An action from the Robert Mensah Stadium
The penultimate round robin matches of the Ghana Rugby Club Championship (GRCC) on Saturday again thrilled spectators with 123 points scored in two matches at the Accra Stadium and the Robert Mensah Stadium in Cape Coast.
In Accra, the newly formed but unbeaten club in the Ghana Rugby Club Championship (GRCC), Conquerors SC, has overpowered its opponent Idas Sports RFC with 9 thrilling tries on Saturday January 23, 2016 at the Accra Sports Stadium.
Idas, the team that has most of its players being expatriates with much experience saw their team conquered by the Conquerors in a margin of 57- 0 after the final whistle.
The day kicked off with the kids training session followed by a U-18 boys match and a ladies match.
Conquerors will be playing their next match against another unbeaten side and defending champions, Cosmos Buffaloes RFC, come Saturday 30th of January at the Accra Sports Stadium.
.
In Cape Coast, the two Cape Coast teams, Griffons RFC and UCC Spartans RFC, locked horns with a convincing victory of 61 to 5 by the Griffons over the Spartans in the main event of the day.
UCC Spartans who currently is last on the log will face Dansoman Hurricanes next week in their last GRCC match as they have no chance of proceeding to the semi finals.
The match, which was fun to watch and which provided a lot of excitement, ended with the boys scoring a 28 to 0 victory over the ladies.
The last matches of the 2015/16 GRRC slated for this Saturday  is already creating huge excitement as it will feature the long awaited match between Cosmos Buffaloes RFC, the 2014/15 Champions, and newcomers Conquerors SC.
From The Sports Desk