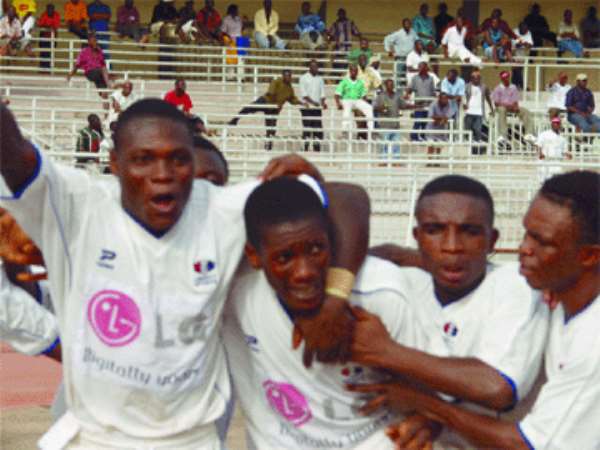 Dansoman-based Liberty Professionals went on rampage on Saturday against a depleted Accra Hearts of Oak side to hand them a 3-0 humiliation defeat to end their uninspiring form in the season, when both teams crossed swords to bring down the curtain on the Premiership. Liberty enjoyed a brace from Felix Baffoe and the third from Odartey Lamptey to revenge their 3-0 drubbing suffered from the hands of the Phobians in their first round league match of the season at the nation's Wembley, the Accra Sports Stadium.
The Phobians team, devoid of their regular set struggled against the Sly Tetteh boys who themselves played a scrappy game which left the sparse supporters that thronged the arena understandably worried about the level at which the passion of the nation had sunk so low.
However, it was Baffoe who completed Liberty's early dominance upfront when he stroke home the opener having profited from a melee which resulted from lousy marking by the Hearts rear pivoted around such rusty players like Hassan Mohammed, Dan Oppong and Kwame Antwi on the eighth minute mark.
The "Scientific Soccer" lads then took charge of the game and pressed the Hearts defence with countless onslaughts that they somehow managed to waste to the amusement of the crowd.
Hearts in between play, come close on a number of occasions but the Ablade Mogan-led attack lacked the potency, vision and idea to cause any major threats upfront.
Coach Cecil Jones Attuquayefio's changes which saw Francis Jojo Bossman and Frank Kornu replacing Joseph Ababio and Alfred Nii Larbi almost worked miracles as the combative Bossman brought loads of positive difference in the play of "Rainbow Boys".
But at a time Hearts seemed to have found the antidote to their host scare, Baffoe took advantage of an incredible footwork from substitute Michael Helegbe who dazzled his way through his markers before sending an admirable cross for the former to consolidate their lead on the 65th mark.
Lamptey finished off the demolishing work six minutes later from yet another Helegbe's creative piece when he cleverly followed up on his earlier delivery that hit the upright and bounced to play to seal the doom of the Phobians.