Cech Returns To Chelsea … For His Gloves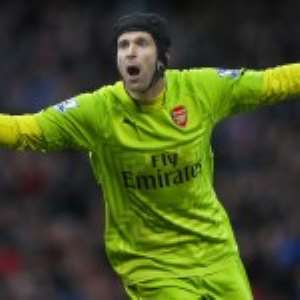 Guus Hiddink said Arsenal goalkeeper Petr Cech had to pay an unexpected visit to his former club Chelsea after a delivery gaffe by sponsors Adidas.
The sportswear company inadvertently sent Cech's new gloves to Chelsea's training ground, apparently forgetting the fact that he had switched to Arsenal last summer.
But Cech was only too happy to travel across London to collect his missing gloves and enjoyed a nice chat with interim manager Hiddink while he was there.
Speaking ahead of Chelsea's trip to Arsenal in the Barclays Premier League tomorrow, Hiddink said: "I was here when Petr showed up. It was nice to see him.
"We had a chat. Almost everyone was gone. We tried to hide them, also we tried to make them slippery but he discovered that.
"They were sent here and we gave them back. That's the story."
Cech, 33, spent 11 successful seasons at Stamford Bridge between 2004 and 2015, winning four Premier League titles, four FA Cups, three League Cups, the Champions League and the Europa League.
With Thibaut Courtois established as first-choice goalkeeper, Cech moved to the Emirates Stadium in a £10m deal and has played an integral role as the Gunners mount their strongest title challenge in years.
Asked in his press conference on Thursday whether he would inspect Cech's gloves for signs of sabotage, Arsenal boss Arsene Wenger said: "He's big enough to check his own gloves.
"I think he has enough gloves. These kinds of mistakes can happen. I consider him now as a real Arsenal player who looks to me as if he's been here forever."