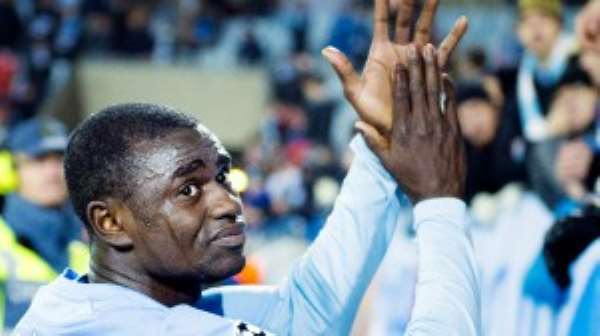 Ghanaian midfielder Enoch Adu Kofi is refusing to give up on being call-up into the Black Stars.
Kofi, who plays for Swedish side Malmo FF, insists it will be an 'honour' to represent his country at the international level.
The former Ghana Under-20 midfielder is one of the most talked-about Ghanaian players following impressive displays in Europe.
But the 25-year-old has constantly been overlooked by successive national team coaches to the amazement of several people.
However, in the midst of the obvious 'rejection, the intelligent midfielder is refusing to press the panic buttom.
'It is the dream of every footballer to represent their nation at the highest level and I cannot be an exception', he is quoted by GazzettaGhana.
'I've been invited once by Avram Grant and the feeling was massive when I returned to my club because everybody was happy even though I didnt make the final squad.
'But I year for more of the opportunity because to serve your nation through football is one of the greatest honours in this world I relish a call-up.
'Nonetheless, I believe in the handlers of the team and whatever they do but surely, I know my time will come."