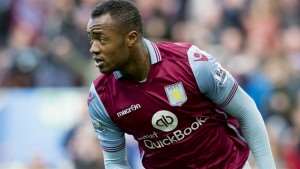 Jordan Ayew
Ghana striker Jordan Ayew has backed Aston Villa defender Jordan Amavi to from a knee injury stronger to propel the side escape relegation.
The left-back suffered a serious knee injury while on international duty with France's Under-21 last month.
It appears the season of the 21-year-old is over but Ghana international Jordan Ayew is confident his teammate will recover in time to help in the relegation fight.
"It was very sad for him to get the injury - and sad for all of us because we are one big family," he told the club's official website
"To lose him was terrible because of what he's now got to go through and because he was undoubtedly one of the best players in our team - he's an excellent left-back.
"It's sad for him and his family and all of us because we are his close friends.
"I know he has a good mentality and I am sure he will come back stronger. I have no doubts about this.
"He is keeping positive. He has his spirits high. I knew him before he came to Villa. Where he comes from in France, they are strong people. He is too.
"He's a fine player. He has the potential to be one of the best left-backs in the world. He has the potential but, as always in life, he has to work very hard to get to that level.
"But he has a big future. I have no doubt he will come back stronger. I am not worried about Jordan - not one bit.
"He's a young boy. He's only 21. People say it's hard for a young player to get an injury like that but I think it's better to have it when you're 21 rather than 31.
"He will be even better next season, in my opinion."
Ayew has vowed to propel the side mastermind a great escape from the drop and must start with a win against West Ham United on Boxing Day.