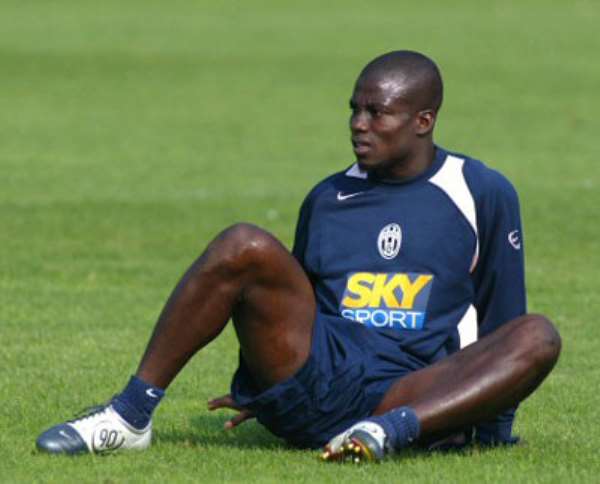 Just as Stephen Appiah was warming to reclaim his first team position with Juventus, the unthinkable has happened.
The captain of the Black Stars has been diagnosed by Juventus doctors to be suffering from internal bleeding in the area around his rib. This discovered hours before Juventus UEFA Champions League match against Bayern in Munich last week.
Appiah's named was expunged from the first team list for that match and referred to doctors in Munich. Even though it was discovered that the injury is not career threatening doctors in Italy conducted further tests on him last Monday.
It was confirmed yesterday that the Black Stars captain will be back in action soon but will have to start training alone by Friday. Interview with GHANAWEB this afternoon Appiah said "I am feeling fine now and ready to play but the doctors have warned me to stay out competitive football for the next few days. They will conduct further tests on my rib by the end of this week to confirm a definite date of my return."
This comes at a time when the 23 year old was reclaiming his position he lost as a result of his participation in the Olympics Games for the Black Meteors. The Italian journalist, Jean Maroo spoke on the likelihood of the Black Stars captain regaining his first team position with Juventus. He told GHANAWEB in Italy : "For sure Appiah got out of favour with the coaching staff because of his participation in the Olympic Games. He played only one match out of the seventeen pre season matches Juventus played as a result of him joining the Ghana team for the Athens Olympics. It was not enough for Fabio Capello to assess him on that match giving that the coach was appointed at the start of the season."
Maroo was however confident of the return of Appiah to his first team position. He said "but for this injury he would have regained his position by now because he played in all the important matches just before he got injured."
Appiah was outstanding in his last competitive match for Juventus in their 2-0 defeat of Roma two weeks ago.
Appiah's injury is a blow for Juventus in their match against Fiorentina tonight. Influential midfielder Emerson is out suspended while defender Nicola Legrottaglie is out with an ankle injury.