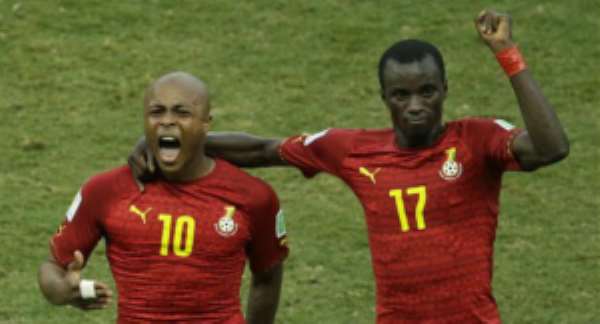 Ghana midfielder Rabiu Mohammed has touted the leadership qualities of Andre Ayew as the standout factor which catapulted his country to win the FIFA Under-20 World Youth Championship.
Ayew, who plays for struggling English side Swansea City, led a crop of talented players to clinch Africa's first ever world title at the Under-20 level in Egypt six years ago.
The former Marseille man has been hugely credited for his leadership role which inspired the team to success.
And Russia-based midfielder Rabiu Mohammed has credited the second son of Ghana legend Abedi Pele for their triumph in the North African country in 2009.
'The U-20 world cup wasn't easy at all, everyone including the technical team were really supportive. The leadership qualities of Andre Ayew were undoubtedly one of the standout factors that motivated us a lot,' he told Kumasi-based Angel FM.
'Before we headed for the tournament, the late Jordan Anagblah told us that we will be champions and that if we finish second or third we have failed the nation. He inculcated the winning the mentality into us.
'In our final game against Brazil, the whole of their technical team started crying in the 75th minute. "They were playing all the game and we were doing the tackling."
Ghana remain the only African country to have ever clinch the World Youth Championship till date.