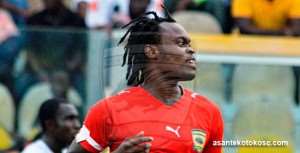 Former Asante Kotoko and Ahli Tripoli midfielder Yaya Mohammed says there are more talented players in Ghana than in Europe insisting the Eiropean player enjoy media hype and cash inflows.
According to the versatile midfielder, Ghana is rich in natural talent but we lack the necessary resources to put these talents to a proper use while the European countries invest huge money into the game with strong media hype to make their players stars.
Speaking in an interview, Yaya acknowledged that the raw talent in the Ghana Premier League is far ahead of what we see in Europe just that Ghanaians don't recognize it.
'If it is about natural talent, they can't match us anywhere. Just watch the Ghana Premier League and you will appreciate what natural talent is,' Yaya Mohammed told Ashh FM in Kumasi.
'The European players are overhyped. They don't have talented players as we have but they push too much money into their system to make it look better. But we have better talents than then.'
'Look at the monies that are given to Messi, Ronaldo and Neymar. It clearly tells you that they are pumping the monies into their system but not because they have better talents than us.'
By: Sheikh Tophic Sienu @desheikh1 on twitter