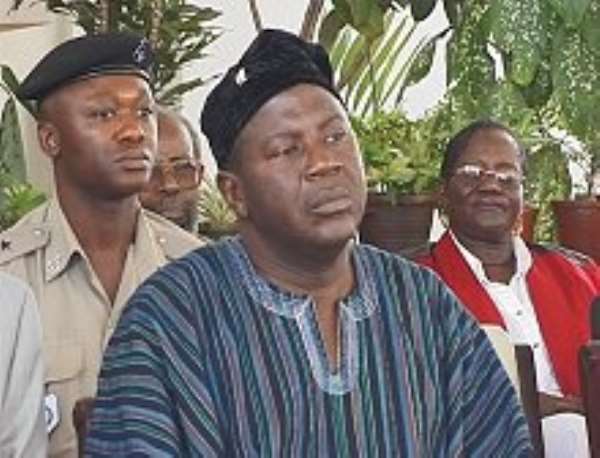 Accra, Oct 24, GNA - Vice President Alhaji Aliu Mahama on Saturday said government was disturbed about the internal squabbles between Dr Nyaho Nyaho-Tamakloe, Chairman of the Ghana Football Association (GFA) and the Executive Council of GFA. He cautioned that such a development could incur the wrath of the world soccer governing body, FIFA, and asked the Chairman and the Council to end the stalemate. Alhaji Aliu Mahama gave the advise during the 29th edition of the Sports Writers Association of Ghana (SWAG) awards night ceremony held in Accra.
He said it was imperative to stay clear from internal wrangles that could adversely affect the global leather and said that government was concern about the power struggle. Alhaji Mahama said the government was deeply disturbed about "the crisis engulfing the game due to the impasse" and directed the two parties involved to cease fire and work towards peace. He reminded the feuding parties that sports thrives in an atmosphere of tolerance, inclusiveness, social cohesion, discipline and respect for individual dignity hence the need to exhibit forbearance and maturity towards one another at all times.
Alhaji Mahama reckoned that the nation's approach to sports for several years has been without professionalism and business manner required in this era of modern competitive world.
He cited the lack of planning, good organization, poor administration, effective and productive promotion of sports, as been the major reasons for the nation's average performance in recent times. Alhaji Mahama said: "it is sad that Ghana has lost her once enviable position in Africa, the Commonwealth and the Olympics as a major sporting nation"
The Vice President called on the private sector to invest in the provision of infrastructure and other facilities to compliment the efforts of the government in promoting the sector for the country to attain massive laurels.
It would be recalled that Dr. Nyaho-Tamakloe and the Executive Council have stayed on each other's throat following the Chairman's alleged request for more powers in the administration of football. He reportedly wrote to Mr Kwadwo Baah-Wiredu, the Minister for Education, Youth and Sports demanding the abolition of the executive council, describing it as an "unwieldy body of thirty seven people supervising the activities of a five member management".
When the Council summoned the chairman to a meeting to deny or confirm the allegation and threatened to impeach him, he took the matter to a High Court in Accra.