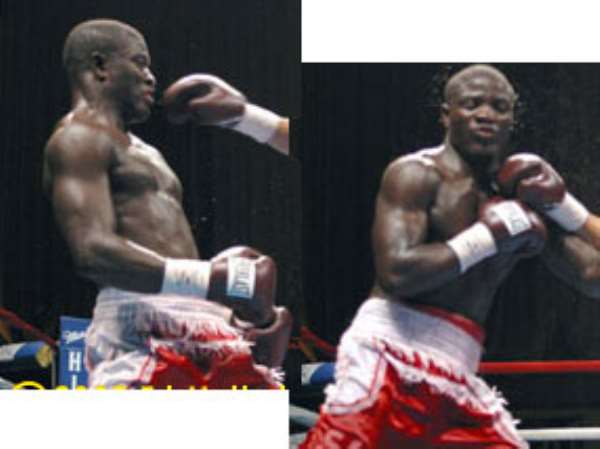 The good news for junior welterweight contender Emmanuel Clottey of the Bronx is that he is in one of the richest divisions in boxing. The bad news is, he is in one of the richest divisions in boxing.
A couple of losses and Clottey becomes fodder for everyone who wants to move up the ladder. A couple of spectacular victories and the other contenders and champions will avoid him like a bad cold. The best thing he can do is to keep winning, no matter who his promoter Lou DiBella places in front of him.
Clottey is in the same canoe with Michael Warrick (18-1, 11KOs), whom he meets in the main event of a Broadway Boxing Series card at Mohegan Sun tomorrow night. The winner moves closer to a world-title shot. The loser becomes an opponent. Clottey (21-6, 14 KOs) had a big chance to step forward against Francisco Bojado in his last bout on Jan. 24 in Atlantic City. But Clottey lost a unanimous decision. A few months later, Clottey watched James Leija beat Bojado and move up a couple of notches in the division. Now, Leija is in line to fight WBA champ Arturo Gatti.
"Right now I'm at my peak," Clottey said yesterday before a press conference at Acme Bar and Grill in lower Manhattan. "I need two or three more fights for a world-title shot. If DiBella puts me in there, I can make it happen. I think I'm ready for the best competition there is."
Clottey, 30, proved that when he scored a 10th-round KO of Muhammad Abdulaev on June3, 2003. It was a major upset at the time because Abdulaev, who won an Olympic gold medal at the 2000 Sydney Games, was on track for a title. But Clottey lost some of that momentum in the loss to Bojado. Now he has to regain it with a victory over Warrick, who upset Jeffrey Resto in his last match.
Boxing has taken Clottey and his brother, Joshua, from their home in Bukom, Ghana, to Britain and now to the U.S. DiBella said that Clottey wasn't given any advantage as a young boxer.
"Early on, certain kids get babied and some kids get thrown to the wolves," DiBella said. "He was treated more like an opponent early in his career. He was never treated with kid gloves and never really treated like a developing prospect."
Clottey's experience should help his younger brother, who Ike Quartey describes as a champion in waiting. Clottey doesn't have any more time to wait. His time has come, and he has to make the most of it, starting with Warrick.