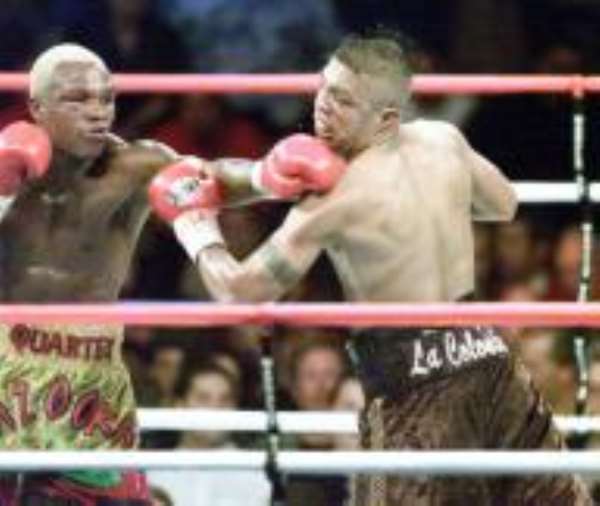 Coming soon to a boxing ring near you, or framed in a television set at least, is the return of the top fighters ever to make it out of Ghana, Ike ' Bazooka' Quartey. Despite the need to shake off four years of ring rust, Quartey might be set to shoot himself straight to the top and into the limelight.
The last time we saw him, he was knocking down Oscar De La Hoya and then pushing Fernando Vargas to the brink, despite losing a close decision. Those two losses are not only notable for being incredibly entertaining fights, but they are also the only two losses of his career.
Many believed that 'Bazooka' would have been one of the best Welterweight or Junior Middleweights – right along with Felix Trinidad and De La Hoya – had he just been more active. With Trinidad making his comeback a welcome one, Vargas set to make a return from injury, and De La Hoya still golden at the box office – Quartey has the style and power to launch himself into the thick of the financial and fistic fury.
First comes a tune-up fight in his native country, which will likely be followed by a mid-level bout in the United States, and the master plan will have Ike back into the rankings and knocking on someone's championship door within a year. That pace would be quite a change for the fighter, but also gives him the best chance at success. After a draw with Jose Luis Lopez in 1997 - which enabled Quartey to retain his WBA Welterweight title - he gave up the belt without losing in the ring due to his inactivity. Despite not fighting at all in 1998, 'Bazooka' took center stage for a mega-fight with De La Hoya and a shot at Oscar's WBC 147-pound title.
That fight was one of those great bouts that saw both fighters knocked down in the sixth round and both bloodied and beaten in the end. De la Hoya closed strong and dropped Quartey for a second time in the final round and winning that round was key, it was that good and that close. Quartey's last fight was an April, 2000 bout with Fernando Vargas when 'El Feroz' rose to the occasion and fought one of his bets fights. That's what happens when Quartey challenges fighters – he brings out the best in the best. Because anything less and you find yourself beat.
At approximately 35-years of age – one never can be sure of those birth dates coming out of Ghana – the timetable on this comeback will definitely be swift. Since taking De La Hoya at 147 pounds, Vargas at 152, and then having a four-year break, it stands to reason that Quartey will likely be campaigning somewhere in the range of Light Middleweight with the possibility of fighting at the suddenly hot Middleweight class.
Possible rematches with De La Hoya and Vargas are already attractive, and a potential meeting with Trinidad would be an explosive encounter. Promoter Lou DiBella was opportunistic to already have Quartey's name on a contract and will soon be reaping the benefits of that maneuver.
They say the last thing that 'goes' for an aging fighter is his power and with 29 of 34 wins as a professional coming by way of knockout – Ike and his 'Bazooka' are back. After shaking off some rust in front of the hometown folk, expect Quartey to shoot his way back to the top and into a mega-fight in short order.
Whether inactivity while he was fighting and the recent retirement have extracted their precious toll is something that we will all discover soon enough. In this sport, one fight can serve as the judge, jury and executioner all in one fell swoop.
If 'Bazooka' Quartey comes back with a bang, the sport's hottest division may have yet another top gun to be wary of.
Contact Joey Knish @ TheSweetScience.com