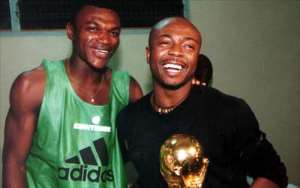 ...Desailly receives offer from Barcelona
Soccer maestro Abedi Ayew Pele has added his voice to the roll call for the appointment of Ghanaian-born French international Marcel Desailly as the coach of the senior national team, the Black Stars.
The position of the coach of the Black Stars became vacant following the departure of Mariano Barreto unceremoniously for a more lucrative one in his homeland Portugal. He now coaches C.S Maritimo in the Portuguese league.
For sometime now Marcel Dasaily and George Opong Weah a former world best have been speculated in the media as the top runners for the job with the former skipper of the French national team Desaily as the favourite.
Abedi Pele disclosed this in an interview and said the criticism that Desaily has no coaching experience does not really count as players with no coaching experience like Raudi Voller led Germany to the world cup grand finale in 2002, Frank Rickhard of Barcelona took Holland to the EURO cup semi-finals in 2000, Didier Deschamp of Monaco guided his club to the UEFA champions league final in 2003 and currently Marco Van Bastin is in charge of Holland who beat the Czech Republic for the first time since 2000 and Jurgen Klinsman and Oliver Biehoff the new technical heads of the German national team.
Abedi emphasised that Desailly's experience as a player and an influential figure in the sporting world would bring lots of benefit to the team should he be given the job.
He said there are other things aside coaching that account for good results in the present age of the game of football and optimism, is an advantage Desaily has over other contenders.
On the world cup, the former skipper of the Black Stars said Ghana is drawn in a relatively easy group in the world cup qualifiers and believes if the needed things are done the national team could make it to the world cup for the first time, to be hosted in Germany in 2006.
In a related development Marcel Dasaily has disclosed to the media that he has received offers from various clubs to play which include Florentina in Italy, Newcastle, Westbromwish and Blackburn Rovers in England after failing to sign a contract with a club in the Oil rich gulf region of Qatar.
Marcel Dasaily said he is yet to decide on the offers he has received since there were other things he was considering but refused to disclose to the media whether there has been a discussion between him and Ghanaian officials on the possibility of coaching the Black Stars.
The Ghana Football Association is yet to confirm someone as a replacement either a foreign or a local coach.