Boro hero: 'Hugs and goals prove there is no problem with Adomah' - Middlesbrough boss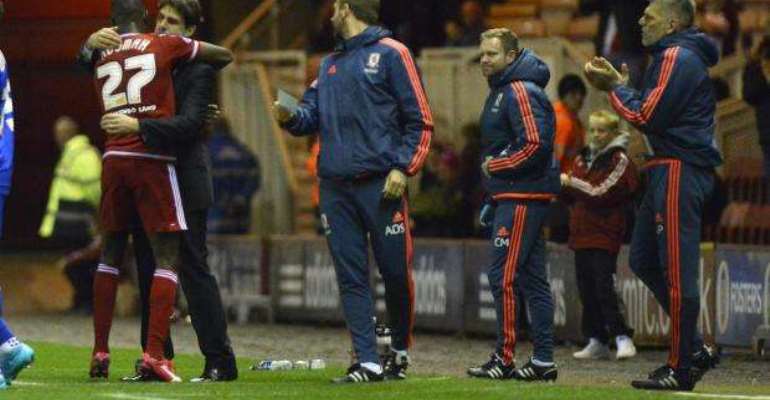 Albert Adomah hugged Aitor Karanka after emerging from the bench to power Middlesbrough up to second in the Championship and the head coach claims it proved there is no problem between the two.
Adomah, who had spent time training on his own, was back in the match-day squad for the first time since the pair settled their differences following a row at the Riverside Stadium in the aftermath of Boro's defeat to Bristol City on August 22.
He had even handed in a transfer request during that spell but he was back in the thick of things to help Middlesbrough claim three points against a dangerous Brentford side to climb in to the top two.
Once Danish winger Lasse Vibe had cancelled out Cristhian Stuani's first half opener after capitalising on an error from goalkeeper Dimi Konstantopoulos, the stage was set for Adomah's introduction.
He received a rapturous welcome from the Riverside crowd before setting up Stuani's second of the game 21 minutes from time. Then Adomah finished off the win himself with his first goal of the campaign in the 78th minute.
After celebrating with his team-mates on the pitch first of all, he then ran over to Karanka in his technical area and hugged him which received one of the biggest cheers of the night from the 20,000-plus crowd.
Karanka said: 'His goal was nice because the team has won the game. That is the main thing.
'Sometimes people speak a lot about what is happening, but most of them don't know what has happened.
'You could see that we don't have any problem between us. The main thing is that Albert is with us and he knows how important he is for the team.
'He is a very good player. He went onto the pitch when the team needed a player like him and he was ready. For me, it is perfect and now I have another problem.
'The celebration was nice because both of us know our relationship, but maybe for the people who felt we had some problems, it made everything clear.'
The impact of Adomah grabbed the spotlight from Stuani who had his best night since moving from Espanyol for £3.6m.
The 28-year-old Uruguayan international took his tally for the season to seven goals and he has only started three games; his brace against Brentford were his first at the Riverside.
Despite the scoreline suggesting Middlesbrough had it easy, Karanka's side never really found top gear.
But the Spaniard said: 'It was a difficult night. Brentford are a good team and the table is not a reflection on how well they play.
'When they equalised I knew it would be difficult to get the second goal, and I thought we might at times we might concede a second one. But with our quality now, hopefully we will score most of the time.'
Credit: Thenorthernecho.co.uk