Keta Municipal Assembly allocates land for beach soccer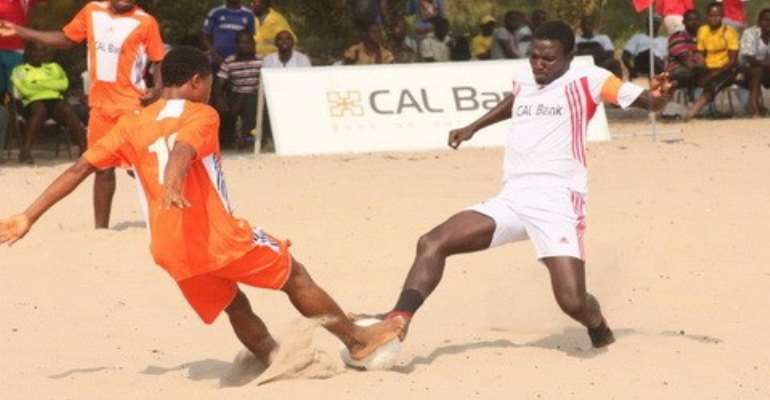 Top Ghana beach soccer championship club Sunset Sports Keta have announced plans to develop a beach soccer arena in Keta.
The facility, when completed, will be among the first in the country.
A club statement said Sunset Sports has secured the release of a beach land measuring 100 x 60metres from the Keta Municipal Assembly which will be used to develop an international beach soccer arena to further enhance to success chalked by keta clubs in the national championship and promote the development of the sports.
The land allocated for the arena is located outside the demarcated land space of Aborigines beach resorts.
Sunset Sports Keta will work in partnership with Aborigines beach resorts and the club's London based partners Sandlanders Football to develop the facility.
Sunset Sports Keta CEO and Ghana Beach Soccer League board Chairman Dzidodo Ruben Adjahoe disclosed that the project will begin as soon as formal documentation is completed under the public private partnership structure.
He further indicated that the arena will have all facilities for concessions and support functions that will meet international standards. He advised all beach soccer clubs in the country to initiate programs that will interest their local communities in order to draw attention to the fast growing sport.
Meanwhile, as part of the broader developmental plans of the association, a nationwide tour of selected coastal communities has been earmarked for beach soccer games.
The "Coast to Coast" tour is aimed at introducing and planting the exciting sport in as many communities as possible.
Follow Joy Sports on Twitter: @Joy997FM. Our hashtag is #JoySports
Story by Ghana/Joy Sports/George Addo Jnr