Akoto DerGross (Fat2Fit) Encourages Ghanaians To Be Serious With Sports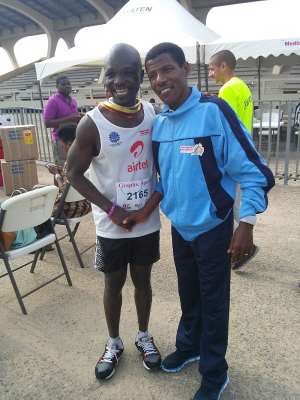 Founder and CEO of Fat2Fit, a weight management company passionate about changing the way people live, Akoto DerGross, has successfully completed his first 21km marathon race at the just ended Millennium Marathon in Accra, Ghana.
The marathon which was dubbed 'Run the change in you' took place on Saturday September 5, 2015.
Akoto DerGross, who once weighed 130kg and now 65kg, said this is more than a dream come true. Who would have ever thought, that he would someday lose weight and even compete in a 21km marathon?
Indeed no one except God! DerGross said he never ever dreamt that this would happen in his lifetime but he has come to know God for doing extra ordinary things through ordinary people who availed themselves.
DerGross said some friends and even family tried to talk him out of taking part in the marathon because they didn't think he could do it but he didn't allow any of that to deter him from his dream of running the marathon. He followed the still small voice within that told him he could do it. He knew he could do it through Christ who gives him strength. Dergross therefore encouraged everyone to learn to listen and follow their inner voice not outside voices.
Akoto DerGross is also author of '7 Simple Steps to Losing Weight', the number 1 weight loss guide book in Ghana. DerGross, a master graduate in international law and business from Germany, now turned weight loss expert has appeared on several media platforms including Star, Joy, Citi, OK and Adom fm as well as Viasat 1 and Adom TV, to share his inspiring story on how he lost half his size and to offer practical solutions to people who struggle with their weight.