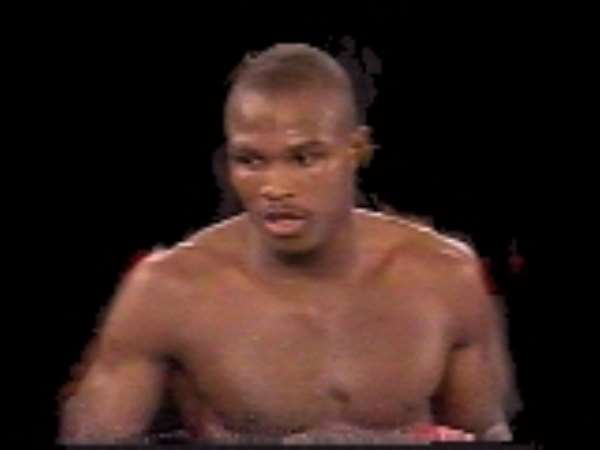 Former WBA welterweight champion Ike "Bazooka" Quartey, will make a surprise return into the ring in December, over three years since his last ring appearance against Fernando Vargas.
During his three-year hiatus, Quartey has kept away from the sport except for his involvement in boxing promotion. But he says he has not hang his gloves yet and the boxing world is set to see the second coming of the once-feared welterweight king.
In a sport yearning for marquee fighters, following the collapse of "Iron" Mike Tyson's empire and the exit of Lennox Lewis, Quartey's planned return comes as little surprise to followers of boxing. Perhaps his lavish, partying lifestyle in recent years may have given the impression that the former WBA welterweight champion had hanged his gloves for good.
After resisting several lucrative overtures, Quartey is ready to mount the ring again with a new look. In his last bout against Vargas, the Ghanaian warrior had a clean-shaven head but this time he sports dreadlocks. In line with his imminent return, a warm-up bout has been put together.
The bout which he has code-named "The Return of Ike 'Bazooka' Quartey", will take place in Ghana to pave the way for bigger fights ahead. In view of this fact, the former champion left Ghana last Sunday night for the U.S.A to have negotiations with his new promoters, Lou DiBella Entertainment. His December opponent will be named after the negotiations.
The "Bazookaman" acknowleges the fact that his long layoff and his regular partying lifestyle, has made him ring rusty. In a jovial but serious tone, he said "I am a normal fun-loving person who parties a lot and it will take time to flush the wines and other brands of alchohol out of my system". Because of this rust, Quartey has decided to start with two non-title fights to enable him to pick up his rythm, after which he will go in for a big fight.
He also disclosed his intention to move from the super welterweight to the lucrative middleweight class which has such big name boxers as Oscar De La Hoya and Felix Trinidad. Quartey's eventual target is a possible world title challenge with current undisputed champion, American Bernard "Executioner" Hopkins.
After his last bout in 2001, Ghanaians had the impression that Quartey had callede time on the sport that made him rich and famous. From all indications, however, the Bazookaman does not have any immediate plans of quittng boxing. "I never mentioned to anyone that I was quitting boxing," he told the Graphic Sports in an interview last week.
Quartey is also stepping up plans to recruit an American trainer to complement the efforts of longtime trainer Oko Odamtten. When asked why he took that decision, the boxer said he wanted to add a more professional aprroach to his career. "I do not expect Oko Odammten to be offended by this decision. He knows I had good intentions and I beleive he would embrace the idea. After all, we both want progress," he said.
Oko Odamtten has no inhibitions about another coach joining their camp. When contacted for his view, he said he supports the idea of recruiting another coach, if that would ensure success for Quartey. "Two heads are better than one. Obviously,too much fish do not spoil the soup," he said philosophically.
Since March, Quartey has been tuning up for his December bout. He runs for an hour every morning and works out at his private gyms at his Kokrobite and Gbawe residences. He also plays a lot of football. However, Odamtten says his ward will begin an intensive training schedule when he returns in a week's time.