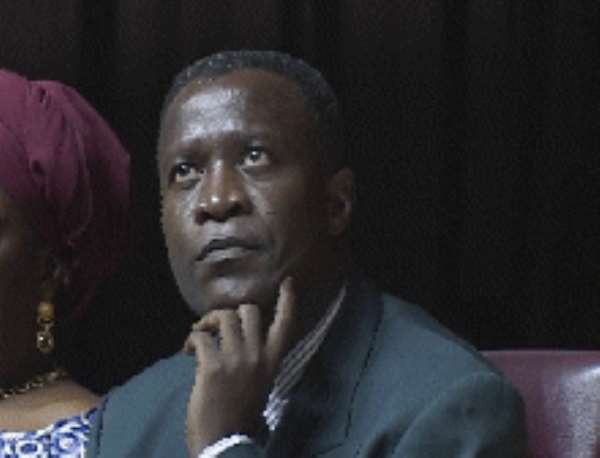 Baah-Wiredu Appeals To Feuding Parties The Minister of Education, Youth and Sports, Mr Kwadwo Baah-Wiredu, has asked feuding factions within the GFA to cease fire and rather forge a united front towards the development of football in the country.
He said the current impasse between members of Ghana's football powerhouse is only a landmine which has the potential to undermine the country's efforts to qualify for the World Cup for the first time.
Mr Baah-Wiredu, who spoke publicly on the issue for the first time, said upon the receipt of a letter from a concerned citizen expressing discomfort at the recent development of uneasiness between members of Ghana's football hierarchy, he could only ask for peace to prevail within the ranks of the persons, at least for the sake of Ghana.
That letter, he said, reminded him that Ghana has failed to reach the global football fiesta mainly due to petty squabbles and minor hitches that have consistently buffeted either the decision makers or another body relevant to the fortunes of the Black Stars at the most crucial times of the team's qualifying campaign for the World Cup.
What appeared as a genuine concern for the development of Ghana football has pitted the Chairman of the GFA, Dr Nyaho Nyaho-Tamakloe, against the Executive Council of the association, following the latter's resentment of the chairman's request for the speeding up of reform within Ghana football.
In a letter to Mr Baah-Wiredu, Dr Nyaho-Tamakloe questioned the current arrangement where control of football in Ghana is vested in the Executive Council which, by extension, places the chairman of the Council in the seat of the de facto head of Ghana football, although he (Dr Nyaho-Tamakloe) and the GFA Management Board are in charge of the day-to-day running of the game.
In that letter, the FA Chairman expressed his frustrations at the arrangement which, he contends, had begun in July when the Council sought to question him over why he authorised the release of ¢29 million to 29 old players of the Black Stars following a request to that effect by the Minister of Education, Youth and Sports.
Although a letter demanding questions from him over the release of that amount was finally dropped, the wedge created could not be bridged and but for a court injunction the Council had sought to impeach him.
At the induction of outstanding sportsmen and sportswomen into the National Sports Hall of Fame last Wednesday, Mr Baah-Wiredu urged the old footballers, some of whom, by his acknowledgement, wielded enough influence, to involve themselves in putting out the fire prevailing mainly between the GFA Chairman, Dr Nyaho-Tamakloe, and the Executive Council of the association.