Fireworks At Ashfoam Golf Medal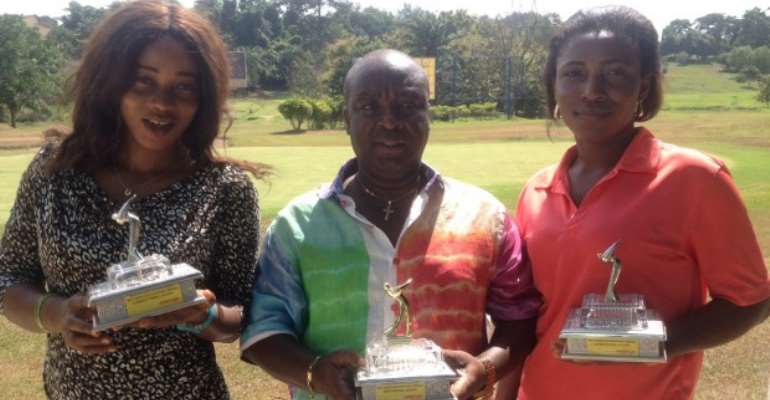 Some of the winners of the August edition of the Ashfoam Monthly Golf Medal tournament, displaying their trophies
THERE WERE fireworks at the Royal Golf Club in Kumasi last week as virtually all golfers who took part in the August edition of the Ashfoam Monthly Medal Golf tournament lived up to expectation.
The golfers on parade on the day were all in fantastic shape in both the male and female categories, as they entertained the crowd which included officials of Ashfoam, proud sponsors of the tournament.
At the end of hostilities, Richard Osei Boakye, who was on fire all day, picked up the men's first position with 72 net, followed by Francis Oti Boateng, 73 net and E.K. Bonsu, 74 net, in that order.
In the female category, where the competition was equally keen, Reyna Asiamah, who was on top of her game, overpowered her competitors to win the first position with 77 net, followed closely by Constance Awuni, 78 net.
The Ashfoam Monthly Medal Golf Tournament is one of the most important golf tournaments on the calendar of the Royal Golf Club, and is open to only members of the club.
Played every month, the fierce golf tournament is geared towards helping the participants to reduce their handicaps, improve their play and also boost the bond of unity among members of the club.
The winners took home attractive prizes including trophies and souvenirs from Ashfoam, which has over the years sponsored the tournament at the club.
Mike Tweneboah, Secretary of the Royal Golf Club, said he was thrilled with the high level of competition showcased by the golfers on parade, noting that the tournament's aim of helping the golfers to improve their game had been achieved.
Adrian Dand, treasurer of the club and F. Hage, a member of the Royal Golf Club, in unison, thanked Ashfoam for expending a lot of resources to promote golf at the club by sponsoring the tournament.
FROM I.F. Joe Awuah Jnr., Kumasi