Today in history: Uganda Shock Ghana in AFCON qualifier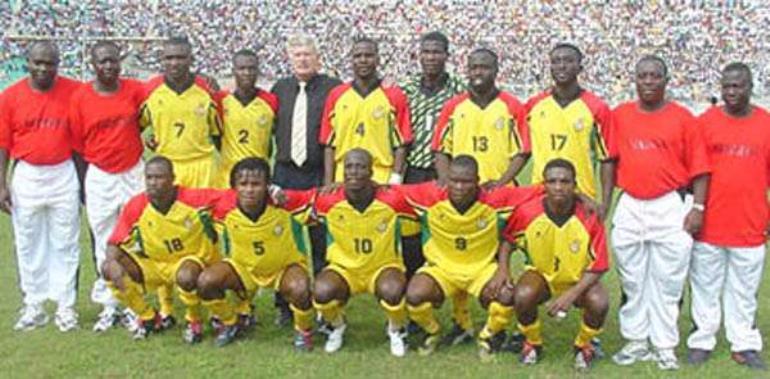 On Saturday 7th September, 2002, Ghana Black Stars lost 0-1 to the Cranes of Uganda in an African Cup of Nations (AFCON) qualifier, which contributed to deny Ghana place in the 2004 AFCON staged in Tunisia.
Ghana finished last in a group that comprised of Rwanda and Uganda, the last time the four times champions failed to qualifier for the AFCON
The Black Stars comprising of mostly Foreign players could not still lift high the Flag of Ghana.
A Phillip Obwiny goal made the difference as Uganda beat a star-studded Ghana team 1-0 in Kampala.
Obwiny, running down the right flank, pounced on the Ghanaians, as striker Fred Okello jumped to confuse goalkeeper Sammy Adjei.
Despite being played on a sodden pitch after a heavy afternoon downpour, the match began at a high tempo, with the Ghanaians dominating play.
But the home side pressed their way back, with Obwiny giving a hint of what was to come with a 23rd minute shot that missed by inches.
Hakim Magumba, outstanding in the Cranes' midfield, and Hassan Mubiru also missed two good chances.
But with Saint Etienne's Razak Ibrahim outstanding in the Ghanaian midfield, the visitors always looked dangerous on the break, missing two chances through Derek Boateng and skipper Stephen Appiah.
In the second half, Ugandan goalkeeper Abdul Salim, making his international debut, made a great save to stop another Appiah move.
But as the match went on, the Ugandans were the ones who squandered chances in front of goal.
Cranes coach Paul Edwin Hasule was a very happy man, but declined to comment on the game.
"Just leave me for now so I can enjoy myself," he said.
Ghana's line-up: Sammy Adjei, Kofi Amponsah, Mohammed Hamza (Asampong Charles), John Mensah, Ibrahim Aboul Razak (Edusei Daniel), Addo Otto, Stephen Appiah, Boateng Derek Owusu, Munturi Sulley Ali (Bortey Bernard Dong), Joe Hendricks, Yakubu Abubakari.