2015 Milo Marathon Launched In Accra...As 28th Edition Comes Alive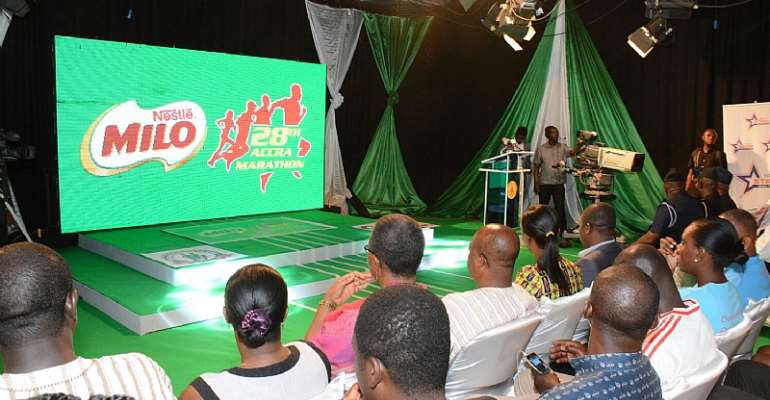 The 28th edition of the Accra Milo Marathon has been launched in Accra last Friday on the theme "Every Champion Starts By Taking a First Step".
According to the organizers, this year's marathon will see a total of 10,000 runners competing in three different segments.
There will be 42.2 km race for adults; the 15km race for U – 15 school children and a 5 km fun non – competitive.
The race, which covers a distance of approximately fifteen kilometers commences at the Azumah Nelson Sport complex, Junction Mall, Nungua Barrier, Accra Academy School and ends at the Dansoman Keep Fit Club grounds.
Speaking at the launch, Antoinette Arkoh, Human Resource Manager of Nestle Ghana Limited, reiterated the company's commitment to encouraging young children to aspire to get to the ultimate through sport.
According to her, last year's marathon was called off due to the threats of the Ebola virus and is looking forward for a great show this year.
She disclosed that an amount of GHC200,000 Cedis worth in cash and product prizes will be given out this year and every step taken in this year's marathon goes to providing shoes to unprivileged child in the country.
Launching the 28th edition, the Director – General of Basic Schools of the Ghana Education Service, Mr. Stephen Adu, thanked Nestle Ghana Limited for its immense contributions by providing the platform for different sporting talents in the country to develop their God given talents.
According to him, the Milo Marathon is an opportunity for the nation to keep fit and benefit from the good things that comes with it.
As an institution, he said, will continue to lend their unflinching support to the organizers to make the Milo Marathon a success.
The Milo Marathon is organized by the Dansoman Keep Fit Club and it is sponsored by Nestle Ghana Limited.