Kotoko vs Medeama: What the coaches and captains say ahead of FA Cup final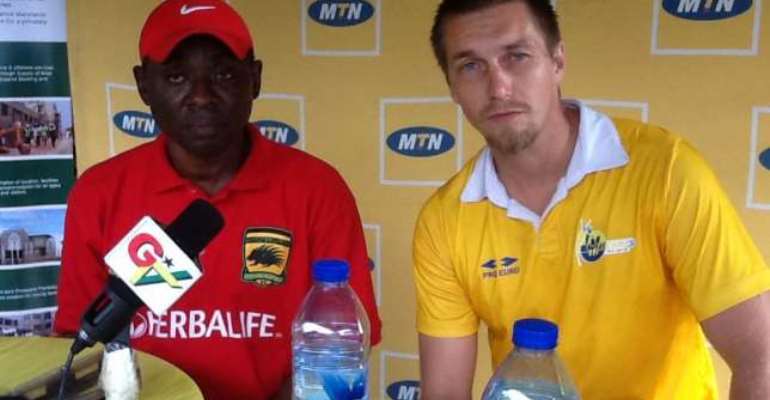 The two finalists for the 2015 MTN FA Cup Final had an exciting interactions with the media on Friday at the pre-match conference at the Stellar Lodge gardens. 
Both Asante Kotoko and Medeama SC were represented by their head coaches and captains while other team officials and fans accompanied them. 
Defending champions, Kotoko had coach David Duncan and Amos Frimpong and Tom Strand and Muntari Tagoe for 2013 winners,Medeama. 
The banter from the coaches was incredible fun yet they gave the media the talk they wanted on tactics and expectations.  Allsports.com.gh gives you a summary of the event. 
AMOS FRIMPONG: 
"We targeted the premier league and the FA cup but unfortunately for us the league is gone and this time too we have only the FA cup to win for this season.
"We will do everything possible this time around to defend the FA Cup even though we could not defend the league trophy so our fans should come in their numbers on Sunday to support us and we are going to play our hearts out to win on Sunday for them,to make them proud and also to make ourselves and our families proud."
MUNTARI TAGOE 
"We as Medeama players know what is at stake and we know what it takes to win this trophy so we just going to do our possible best to win this trophy. I've won it once as a player and as a captain today I have to do my best and I have to talk to my guys so that we win it the second time. You know when you win this you will be going to the Confederation Cup, Kotoko don't have to come because when they go they just going to play a game and come back. We played to go forward. 
"We were just unlucky the last time we couldn't qualify to the group stages so this time we just going to win on Sunday and move on to the confederation cup and move to the money zone,we are promising our supporters that. So all fans and spectators should come we just going to do our best,both clubs are going to exhibit what they have as a team and make everybody happy on Sunday". 
TOM STRAND 
"This is the clash of the titans match. It's two very great teams that is going to play on a great pitch so it gonna be a fantastic war out there and I know that we are the team that play the better football than Kotoko but Kotoko is fast in counter attacking so we need watch out for that and I know that they are good in set pieces so we have to watch out. 
"But I hope that it will be a fair game and that the best team wins and for that one I know that we are the better team so I know that if we are on top we are going to take the trophy home.
"If you look at the two matches we have played in the league it has ended in a draw but I think that we can end it before the ninety minutes this time because we play on a good pitch and maybe even that we can win the match by two goal difference."
DAVID DUNCAN 
"Medeama have a set a question for themselves and have answered it saying anytime Medeama had meet Kotoko in a cup decider, Medeama always ends up been victorious or triumphant or lifting the cup. That is an equation that is hugely floored because anytime Medeama have met Kotoko in a decider,it is not coach Duncan who sit on the bench of Kotoko. And if that is anything to go by the equation is floored as I said.
"He also is forgetting that anytime coach Duncan has met Medeama in a cup decider,coach Duncan has triumphed over Medeama. President cup is a case in reference when I was with Accra Hearts Of Oak. If coach Duncan is on the bench of a team agains Medeama in a cup decider,Medeama loses. 
"I find it difficult to understand why he makes emphasis to a good pitch,good pitch,good pitch. That means they are playing on a very bad pitch and a bad pitch always favors a bad team. So they are playing at Tarkwa and getting all those results because they are playing on a bad pitch. A very bad pitch favours a bad team.  Is a mantra. Is in the books. Any team that plays Barcelona on a bad pitch will win.
"Am hoping that Sundays game will be a very beautiful game. I think that anybody coming to watch the game will have his money's worth. You matter where the pendulum of victory swings to on Sunday but I am hoping that we will nick it."