ARS Inspires Belief In Soccer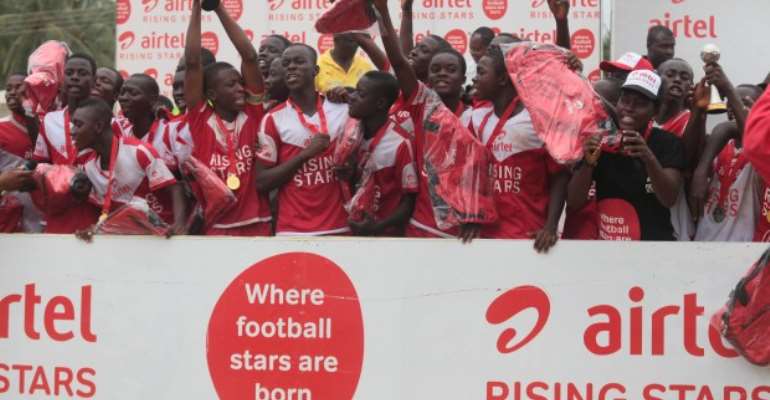 The jubilant Greater Accra team displaying their mementos
Ghana Football Association Technical Director, Francis Oti Akenteng, says he is inspired by the spirit of the Airtel Rising Stars (ARS) competition, which saw Greater Accra completing the list of qualifiers.
Greater Accra Region's Team A outmuscled their Volta counterparts in a fiercely competitive zonal qualification played at Denu, in the Volta Region.
The Girls team from the nation's capital also beat their Volta rivals on penalties to secure a spot in the national finals.
They join other teams heading for Sunyani from August 28 to 30 for the finals.
Ghana Football Association Technical Director Francis Oti Akenteng paid tribute to the spirit of the competition and the winners.
Airtel Rising Stars, Ghana's most authentic talent hunt competition at the under 15 level, has already crisscrossed the country.
'Everywhere we have gone we have seen worthy champions. And now all the champions are heading to Sunyani,' said Kwame Gyan, Brand Assets Manager of Airtel Ghana.
Airtel Rising Stars is a corporate social responsibility program run by Airtel Ghana to identify the best talent in Ghana at the U- 15 level and bring them to the attention of national team managers.
As part of giving back to the community which hosts them, Airtel Ghana donates a set of jerseys and footballs to schools that partner the competition.
Some beneficiary schools include Konongo Odumase High School (KOSS), St Paul's Senior High School (SPACO) in Denu and Vitten Secondary School in Tamale.