Young Prospects Sambou And Wood Battle For Supremacy This Saturday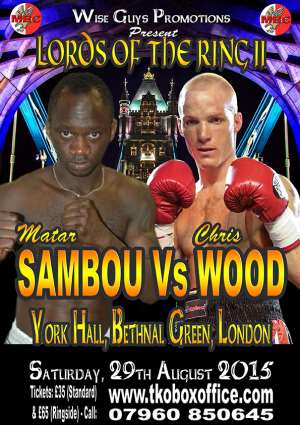 On Saturday night, at York Hall in London, two young prospects, Matar Sambou and Chris Wood are set to go toe-to-toe against each other, on the Mark Lyons and Billy James-Elliott promoted LORDS OF THE RING II event.
How refreshing to see two young prospects willing to go toe-to-toe against each other so early in the careers, rather than the accepted normality of facing off against a journeyman for the first six or seven fights of their career.
Kent based Senegalese Sambou, who on his pro debut sensationally stopped Lithuanian hard-man Tadas Stulginskas in just one minute and forty seconds of the first round, had already built up quite a reputation, of being a one of the toughest, big punching youngsters around, during his extensive amateur career back home in Senegal, where he was spotted by no less than former Heavyweight World Champion David Haye, as well as on the unlicensed circuit here in the UK.
His opponent on Saturday, Middlesbrough's Chris Wood, whose record stands at two wins and single split decision loss, also has built up quite a reputation as a tough young fighter that is willing to fight anyone, anywhere, anytime, and his willingness to enter into the Lions den was well and truly proved, when he traveled to Scotland to box former unified World Kick Boxing Champion Sam Allan on his home show at Wishaw on just his second pro bout.
Promoter Mark Lyons spoke earlier about the prospect of such a mouthwatering match up taking place on his upcoming event.
"What can I say, this is likely to be a truly memorable fight, probably will be the fight of the night as these two boys are true warriors.
We know all about Matar, we know that he is as tough as they come and is one of the most avoided young boxers around, nobody wants to fight him, well usually nobody wants to.
We had heard so many good things about Chris, but when he was approached by Matar's matchmaker Ben Frankham we still didn't really expect him to take the fight, but he did.
What can I say, Chris is a real fighter, he's not looking to artificially build his record, he wants to fight the best, he wants to beat the best and get himself to the top by fighting other prospects, not being mollycoddled for six or seven fights, you can't help but respect the kid for that.
Have to say, we're all really looking forward to watching these two warriors against each other, it will be an out and out war, that's for sure."
Matar Sambou versus Chris Wood features on the Mark Lyons and Billy James-Elliott Wise Guys promotions LORDS OF THE RING II event that will take place at York Hall, Bethnal Green, London this coming Saturday, the 29th August 2015.
This event is sanctioned courtesy of the Malta Boxing Commission (MBC) www.maltaboxingcommission.com
Tickets, priced £35 (standard seated) and £65 (Ringside) are available direct from any of the boxers taking part, on-line at www.tkoboxoffice.com and www.wiseguypromotions.com or call 07960 850645 or 07807 282559.