Sad story: Ex-Ghana goalie hints of ending his life due to frustrations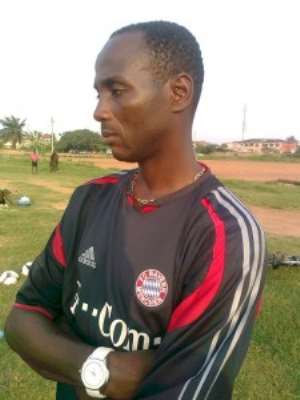 Ex-Ghana and Accra Hearts of Oak international goalie Ali Jarrah has sadly given hints of ending his life due to frustrations he is going through after his football career was truncated abruptly due to an injury he sustained in 1993.
The ex-national goalie who was since paralysed after that injury has given hints on his facebook wall of ending his frustrations after being neglected by friends and family in particular and the nation as a whole.
Narrating his ordeal on his facebook wall, the ex-Black Stars goalie wrote:
"I just wanted to share this with friends. Life has never treated me fairly. Siblings and friends have also never treated me fairly . Those you treat well will turn their backs on you.
"Why will people judge you with your disability and turn their backs on you? This world is a journey. Why will people suffer and toil which its no fault of them?
"Friends and brothers who are supposed to comfort you neglect you. This is a little story I have to share with you friend" .
"I started as a footballer (goalkeeper to be specific). I've played 3 Juvenile World Cups and 1 African Cup of Nations. I've won one Juvenile World Cup, two silvers and one African Cup of Nations.
"I also played for Accra Hearts of Oak. I won all the 3 awards in the 1992/1993 season. I got paralysed in 1993. I started training goalkeepers to give back to the society, which I've help over 30 goalkeepers to be in the premiership and the nation team both male and females.
"I coach people with disability. I've been able to help 7 amputee's to play in Turkey. Why is it that I've been able to change peoples lives and no one cares about me? Am dying slowly.
Ministers, Philanthropists, The FA, Parliamentarians can't they came to my aid?
"In Ghana if you don't have a push you can't survive. Day in and out am heading towards my grave. Will they wait till I die before they remember me?
"If I got paralyzed at 17 dying for my nation, what do the nation expects me to do now after 23 years. I leave this to the world to judge.
"You can share my little story amongst friends and brothers so they know that when I die I died because of pain.