Minister Vetoes Martha Bisa To Contest In All African Games In Congo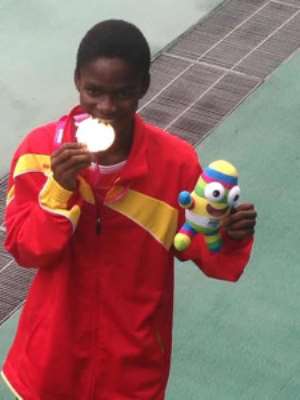 Martha Bisa–the only athlete who won the first ever Olympic Gold medal for Ghana received a surprise when the Minister of Youth and Sports handed her a "second-chance" opportunity to represent Ghana in the 800m and 1500m race in Congo.
It will be recalled that the resilient Martha who won the female 800m race in China failed to meet the standard this time around during the recently held qualifying series at the El-Wak Sports Stadium.
Martha needed a time of 2:04 seconds to qualify but managed to pull 2:11 seconds thus failing to make the cut. Per the explanation of the sitting executive member of the Ghana Athletics Association (GAA) earlier this morning on Radio Gold's Weekend Sports program, the current Treasurer--Dr. Marc Dzradosi explained the GAA is bent on applying the standards for Ghana to have the best representatives per the international standards and will not field anyone who doesn't meet the time.
He mentioned that the GAA is not in a business of favoring any athlete but will only send athletes who qualified on merit. When quizzed if Ghana will represent any athlete in the 800m race by the host Nana Darkwa Gyasi, he responded negatively.
On the other, Martha and her handlers are advancing their case that, Martha has a record of not doing well in the qualifiers but always run with the horse's heart at the ultimate stage to win laurels and therefore needed a second chance for the athlete in view of the slim miss; more especially when no athlete will be fielded in that event. They cited the evidence that prior to winning Gold in 2014 in China, Martha has 2:06:32 for third position in Morrocco, but put up a sterling performance to win the Gold with personal best time 2:04:90.
In the midst of the exchange, the host broke the news that the honorable Minister of Youth and Sports Dr. (Maj) Mustapha Ahmed, Rtd had issued a ticket for Martha Bisa to contest the pending All- African Games in Congo scheduled on September 4-19 this year.
Martha with a tears-of-joy expressed her deepest gratitude to the Minister and pledged to justify the trust repose in her by winning more medals for Ghana.
"Amansan Radio, NY" wishes Martha the very best in the upcoming event and beyond.
Frank Goka #AmansanSportsDesk