Millennium Marathon Calls For Registration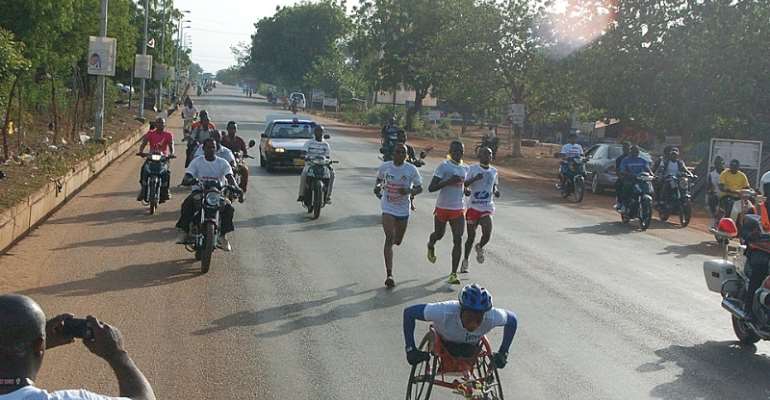 The Management and organizers of the Millennium Marathon wish to remind participants that the event day is drawing closer and there is the need for them to register if they want to win the Peugeot car and other prizes at stake.
According to Selali Tsegah of the Millennium Marathon Sports Ltd (MMSL), registration is still going on at the Aviation Social Center at very moderate fee and advices all potential winners to register.
According to Tsegah, the registration for the Half Marathon (21K) is– $40.00 for non-residents and GHs10.00 for residents.
He said for the Family Run (5K), adults Non-Residents will pay $40.00 and GHs10.00 for adult Resident. Minors or youth will pay GHs5.00.
"If you secure a place in the 2015 Millennium Marathon you'll need to register for the race to collect your Race Pack" he said.
"You will receive your registration form at our selected stations or via online and you must bring with you to the 2015 Millennium Marathon Expo your identification (see details in Part 2) in order to collect your Race Pack" he added.
He hinted that the 2015 Millennium Marathon Expo will be held from August 29 to September 4. All runners will need to attend one of these days to register.
"If you live in Ghana, please try to attend on Wednesday or Thursday because the event becomes very busy on Friday and Saturday with runners who have come from further afield. The Registration Clerk will ask you to sign the declaration on your registration form in front of them and show some identification (for example, your passport or driving license). They will also give you some final instructions for race day – please read them carefully" he advised.
"Although we encourage everyone to register for the Millennium Marathon in person we know this isn't always possible. Here's what to do if you can't attend the event: Nominate someone to attend the Expo and collect your runner number for you. Your nominee will need a letter written and signed by you, giving permission for them to collect your number. They'll also need to bring a copy of your identification. Sign the declaration on your registration form. When your nominee gives the form to the Registration Clerk, they'll check your details. Your nominee will also need to bring some identification.
Meanwhile, there are special desks at the Expo for overseas runners to register – these will be clearly marked said Carthy Morton, Project Director of the Expo.
This epic international marathon in collaboration with the Race Director, Haile Gebrselassie, the greatest and finest runner of all time, will attract over 15,000 professional runners locally and internationally, as well as more than 100,000 spectators from around the country. The half marathon will start from the Independence Square in Accra and pass through some of Accra's tourist's monuments, running along the Atlantic Ocean on the Labadi beach road, across the Trade Fair and through some lovely streets of Accra, via the National theatre, Kwame Nkrumah Mausoleum and back to the finish line at the Independence Square.
The course will be one of the flattest marathons in Africa which will make it ideal and popular for those wishing to take part in the New York and Boston marathons in the United States.
Sammy Heywood Okine
Sports Journalist