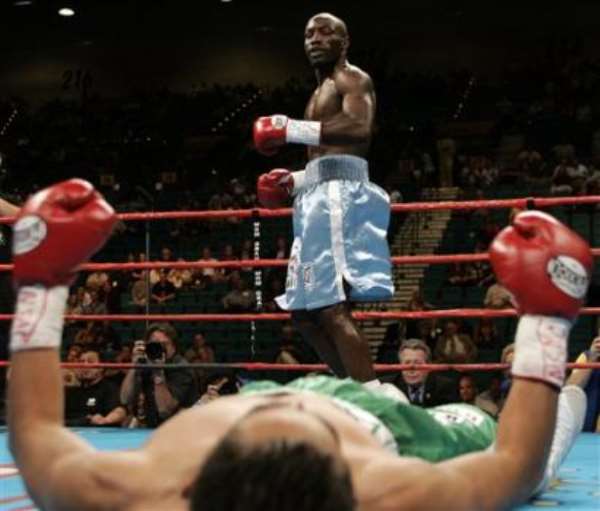 READY FOR JUNIOR MIDDLEWEIGHT TITLE SHOT
DiBella Entertainment's junior middleweight star Kofi Jantuah scored a sensational first round knockout over Marco Antonio Rubio on the De La Hoya-Hopkins undercard on Saturday night at the MGM Grand in Las Vegas, and has positioned himself as a bona fide contender to champions Winky Wright, Verno Phillips and Daniel Santos.
The spectacular KO was scored at 0:33 of the opening stanza - if you blinked you missed it - in the WBC Eliminator, vaulting Jantuah to the coveted position of #1 contender.
"The world now knows about Kofi Jantuah," said DBE president, Lou DiBella, the fighter's promoter. "Scoring such a sensational knockout on the pay-per-view broadcast will have the fight fans craving for a title matchup against champions Winky Wright (WBC, WBA), Verno Phillips (IBF), and Daniel Santos (WBO). "With one awesome punch Kofi Jantuah has emerged as the one to beat in the division. It was one of the year's great knockouts, and he will be a difficult foe for the present titleholders. He is obviously more than capable of beating anyone in the division."
A native of Accra, Ghana, which has produced the likes of Ike Quartey and Azuma Nelson, Jantuah now has a sparkling ring record of 28-1, including 18 by way of knockout, the most devastating against last Saturday's opponent Rubio.