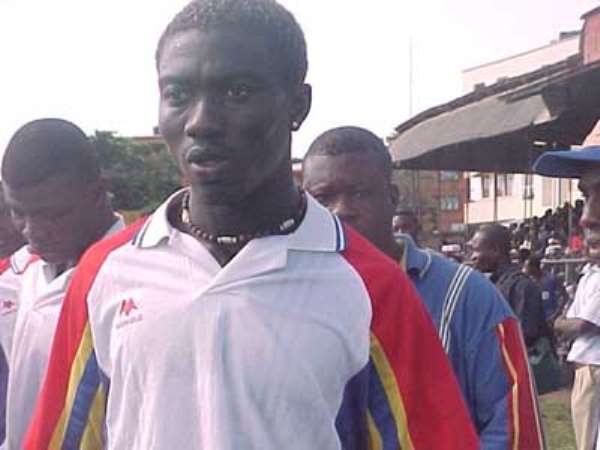 Coton Sport (Cameroon) 0 Hearts of Oak (Ghana) 0 African Confederation Cup, Group B Attendance: 6,000 Ghana's Accra Hearts of Oak yesterday held Cameroun's Cotonsport to a goalless draw in Garoua to keep their leadership of Group B in the CAF Confederation Cup. The result left Hearts unblemished after two games, but just one point better than South Africa's Santos which beat another Camerounian side, Sable de Batie, 1-0 in the other group game. Cotonsport weathered the visitors' early onslaught and attacked in bursts, but yet remained far from target. Hearts scared the Camerounians early in the game when Emmanuel Osei Kuffour, Prince Tagoe and Louis Agyemang combined in a swift move that took the home side's defence unawares. The resultant corner-kick and another in the closing stages of the game were Hearts response to Cotonsport's 14 corner kicks that were spread evenly over the match duration.Hearts relied heavily on the good judgements and timely interventions of goalkeeper Eben Dida to keep their net clear on the occasions that the Camerounian side managed to beat the defence. For once, Cotonsport might have thought of having broken Hearts' back but the Ivorian referee in charge ruled their late effort offside.Hearts, who travel to Cameroun again on September 24 to play Sable de Batie, now have four points, while Santos, guests to Cotonsport on the same weekend, occupy second place on three points.Cotonsport are third on two points while Sable de Batie lie at the bottom with just a single point. Line-Up: 16-Eben Dida Armah; 4-Daniel Quaye, 6-Yaw Amankwa Mireku, 21-Daniel Coleman, 13-Kwabena Boafo; 9-Lawrence Adjeh Tetteh, 18-Eric Nyarko, 11-Beranrd Don Bortey (19-Francis Bossman, 89), 14-Louis Agyeman; 24-Prince Tagoe (30-Edmund Copson 70), 3-Emanuel Osei Kuffour Al-Hilal 2 Kotoko 0 Al-Hilal of Sudan beat Ghana's Kumasi Asante Kotoko 2-0 in Khartoum last Saturday and went on equal points as other opponents in Group A of the CAF Confederation Cup. Al-Hilal scored the two goals within four minutes, the 17th and 21st minutes, and hung onto the the lead to snatch maximum points from their second game in the series.
The home side struck first through Haitham Mostafa from a freekick just outside the penalty box of Kotoko when the ball appeared to have been swayed from the position of goalkeeper George Owu.Just four minutes later, Al-Hilal's pressure paid off when Dario Khan scored from a freekick that bore similarity to the first goal.
Both sides then spent the rest of the game on adventures that were characterised by missed chances in front of goal. Kotoko resumed the second half with greater urgency and pushed forward at every opportunity as they seized the midfield.During that spell Al-Hilal remained largely on the defensive, and opted to exploit the counter-attacking system that created a few anxious moments for the visitors.
Kotoko's skipper Joe Hendricks, however, controlled the defence that held their own against the swift forwards of the Sudanese side till full time.During their time of dominance, however, Kotoko's Sanjie Mbola led in a comedy of errors that robbed the Ghanaian side of at least a consolation goal in the away duel.
In the other group game, Enugu Rangers of Nigeria beat Petro Athletico of Angola 4-0 to jump to the top of the table by virtue of their superior goal difference.
Kotoko and Al-hilal share second place on equal points and goals while Petro Atheltico drop to last.Kotoko host Petro Athletico in Kumasi on September 24.