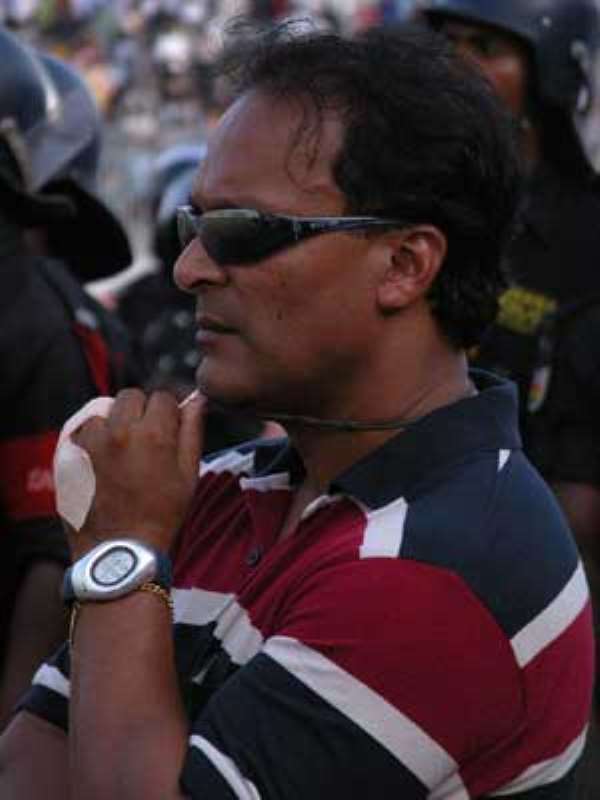 Ghana's football chiefs are in a desperate search for a quick-fix solution to save the Black Stars' World Cup campaign following the sudden departure of national coach, Mariano Barreto, after guiding the team to beat Cape Verde 2-0 last Sunday.
Barreto left Ghana for his native Portugal unannounced last Sunday night in a Hollywood movie-style that stunned the Ghana Football Association (GFA) and even his close associates.
The Portuguese broke his contract with Ghana to handle Portuguese first division side, Maritimo, on a one-year deal. Even as the GFA top brass and Sports Ministry officials are putting their heads together to find a quick-fix solution to the puzzle, the Graphic Sports had discovered that long before Sunday's qualifying match that Barreto had made up his mind to quit the job in similar manner that Yugoslav Millan Zivadinovic abandoned the Stars in 2002 after only one match in charge.
According to yesterday's edition of Scottish newspaper, Daily Record, Maritimo President Carlos Pereira spilled the beans on how Barreto was "smuggled" out of Ghana last Sunday because of fears for the coach's safety, as he feared the wrath of football fans if he had made the Maritimo move public.
"We kept it secret, even though it was tied up last Thursday. It was necessary to think about the security of the new coach," Pereira was quoted as saying. After his 12-hour flight via Amsterdam, Barreto was officially unveiled last Monday as replacement for dismissed Maritimo coach Manuel Cajuda. He told reporters that he was unhappy with the working conditions in Ghana and thus jumped at the opportunity to return home to handle the mid-table club.
"Being manager of Ghana is an important position but there was no way I could turn down a team destined for greatness," Barreto said.
At the time of going to press, the GFA and the Ministry of Eduction, Youth and Sports were considering several options available, including luring Barreto to return to complete his job.
But that looks a remote possibility as the man has already begun work and is set to kick off his reign in a league match against Penafiel tomorrow, and to Scotland on Sunday to watch a Scottish league match involving Maritimo's UEFA Cup opponents, Rangers and Hearts.
Information available to the Graphic Sports indicates that GFA and Ministry officials have established contact with Barreto and are talking in a bid to reach a peace deal.
GFA Chairman Dr N. Nyaho-Tamakloe says that the coach had not notified the association of his intention to vacate his post and as far as the FA was concerned, Barreto remained in charge of the Stars.
However, the reality of the situation began to dawn on the football establishment last Wednesday as the top hierarchy and the Minister of State in charge of Youth and Sports, Mr Rashid Bawa, and his deputy, Mr Joe Aggrey, went into a crisis meeting in a bid to resolve the problem.
The Graphic Sports further gathered that some leading figures were considering dispatching a high-powered delegation to Portugal to meet Barreto and maybe Maritimo officials, to thrash out any unresolved problem that might have resulted in the coach's departure. FA officials are even worried that the vacuum created might jeopardise the Stars' October 10 qualifier against DR Congo in Kumasi, as a new coach would need more than a month to establish the right chemistry with his players for such an important assignment.
As a result, some officials are reportedly advocating in compromise deal whereby Barreto will return and handle the team for the DR Congo match and then finally part ways with Ghana, since another World Cup qualifier would take place six months later (March 2005).
Barreto's sudden departure, although shocking, was somewhat expected. The Portuguese often complained that the highly critical media hounded him and his efforts were never appreciated right from the day he set foot in Ghana last February.
The red flags were flying long ago but Ghanaians failed to take notice. In fact, Barreto told close associates including this writer that he was not happy and would leave sooner than later. Even Hon. Rashid Bawa knew the Portuguese was not a happy man but never envisaged that 'Armageddon' would occur soon after Ghana leapfrogged into pole position in Group Two of the qualifiers.
Mr Bawa told Graphic Sports that he had tried to calm the storm after he received complaints from the coach that some media practitioners, coaches and club officials had tried to villify him and undermine his job.
But when his wife Celestine was drawn into the get-him-out campaign soon after Ghana's exit from the Athens Olympics, in an alleged player recruitment scheme, Barreto just seized the opportunity to grab the offer by Maritimo.
Last week, he gave this writer a hint he was leaving, when he revealed that his unhappy wife had packed bag and baggage after her vilification and returned to Portugal, vowing never to come back to Ghana.
"Since your people don't want me I'm going in October," Barreto told me last week.
"The Ghana journalists say that I'm not a coach but a physical instructor, a translator, a painter . . ."
His catalogue of complaints include suspicion that the "German coaches in Ghana are undermining me", and villification by a particular private football weekly and radio sports presenters in Kumasi.
All this while he expected the GFA, his employers, to show some solidarity that never materialised. Hence, he was left alone in the line of fire despite his impressive record in charge of the Stars and Black Meteors that he piloted to the group stage of the Athens Olympics.
The 47-year-old Barreto was even suspicious of his assistant, Sellas Tetteh, whom he once accused of condoning with indiscipline by some of his players (they reportedly went nightclubbing in Ouagadougou) and failing to be sincere with him, thus leading to Ghana's loss to Burkina Faso last June. That mistrust could explain why the Portuguese dropped the Liberty Professionals coach from the Athens Games.
Barreto was also often very suspicious of Asante Kotoko coach Hans-Dieter Schmidt whom he accused of using subtle means to undermine his efforts by putting impediments in the way of his players since the German's short stint with King Faisal.
On many occasions, the Portuguese told this writer, "I don't understand why in your country people are very loyal to their club but don't show the same loyalty to the national team. Please tell me why, because maybe I'm a foreigner and I don't know what happens here."
Whether these cocktail of problems are real or only in Barreto's mind, one thing was clear. He made it known that he wanted to send Ghana to the 2006 World Cup in Germany to make a name for himself and then return to Portugal to take charge of a big club.
Almost halfway into the journey to Germany, the Athens Games may have provided Barreto with an ideal springboard to fulfil his dreams of leading a club side after several years of playing the bridesmaid in Portugal, Germany and Russia.