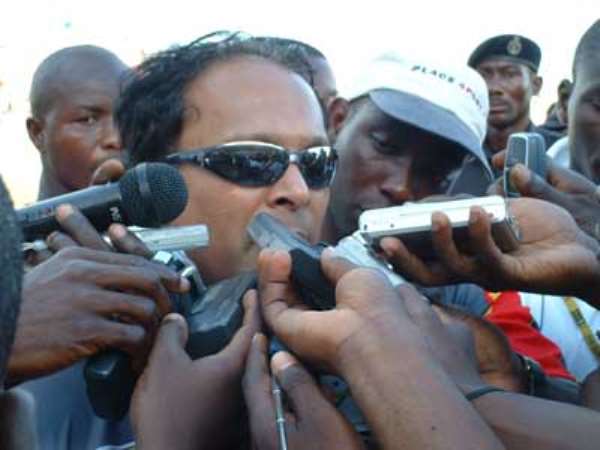 GFA was informed a month ago Former Ghana manager Mariano Barreto has denied claims that he abandoned the Black Stars to take up his new job with Portuguese clubside Maritimo.
In an exclusive interview with BBC Sport, Baretto said he had informed Ghana Football Association (GFA) officials of his decision to quit his post.
"It is not true that I abandoned them to take up my new job.
"I had told them that I could be leaving as long as a month ago," Barreto claimed.
The Portuguese coach said the GFA's failure to publicly support him in the face of consistent media criticism had made his position untenable.
"Many people in Ghana were against me and the GFA never came out in my support."
Barreto was particularly hurt by allegations made in the Ghanaian media that he had falsified his career history in order to get the national manager's job.
"I have worked in football for 20 years, with some of the world's top clubs, but some people in Ghana saw me as a dubious person.
Many people in Ghana were against me and the GFA never came out in my support Former Ghana manager Mariano Barreto
"I left a big club like Lokomotiv Moscow to go to Ghana, because I wanted to achieve something with them after they had underperformed for several years.
"But the conditions under which I was working made it impossible for me to continue in this job."
Baretto said the media had little praise for him after leading Ghana to the top of their World Cup qualifying group, following a 2-0 win over Cape Verde at the weekend.
"I need to be with people who would respect me and treat me properly.
"Can you imagine that the first question I was asked after our win on Sunday was why we did not win the match by four goals instead of two?
"That is what I had to cope with for the nine months I was there," he said.
While praising Ghanaian fans for their support of the national team, he accused influential people of working against the progress of the Black Stars.
"Ghanaian people are wonderful but there are some people who do not want football to grow.
"For me, I have a new challenge with Maritimo and I wish Ghana the very best of luck."