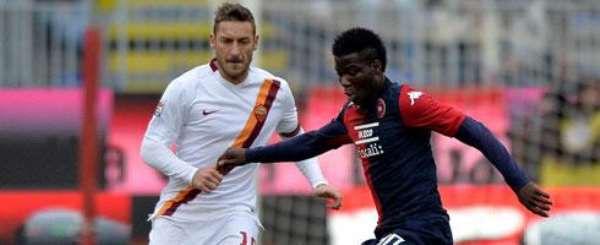 Donsah says he is open to a move to England
Ghana's U-20 star, Godfred Donsah, a reported target for Italian Serie A clubs Juventus and AS Roma, says he is keen on playing for Arsenal and Liverpool as he has no preference if presented with the opportunity to join any club in the current transfer window.
Tottenham and Manchester City are reported to be watching the 19-year-old Cagliari midfielder and right-back who has been compared to his fellow Ghanaian Michael Essien.
Manchester City plan to beat Arsenal, Spurs and Liverpool to Cagliari midfielder Godfred Donsah, writes Steve Goodman in the Sunday People.
The 18-year-old Ghanaian, who can also play at right-back, has been dubbed the new Michael Essien.
Accra-born Donsah has made 15 Serie A appearances this season, scoring twice. He previously played for Palermo and Verona.
Scouts from champions City and Arsenal watched him in Cagliari's 2-1 defeat by Inter Milan last week.
According to the much-sought-after midfielder, although his current side, Cagliari, have been relegated to the Serie B, he will not mind staying on to help them return to the top flight.
"I can't pick a particular team because there are so many rumours making the rounds. The transfer market will decide where I will go but by the time the market comes to a close, I will know where I will be playing," the 19-year-old told the Graphic Sports on the sidelines of the Airtel Rising Stars launch in Accra.
"I can't say much just that I am waiting for the transfer window to end. However, I am ready to head back to Cagliari to play and deliver and make sure we return to the Serie A next season," he added
The former Palermo midfielder also disclosed that he had gained valuable experience from playing for the Black Satellites at the ongoing 2015 FIFA U-20 World Cup in New Zealand.
"The experience of the World Cup has helped me so much. There is a lot of difference between the World Cup and club football.
"At the World Cup, you meet the best players just like in club football where you also meet the best players but the World Cup is a very big tournament', he contended.
Donsah also apologised to Ghanaians for the early exit of the Black Satellites at the round of 16 stage of the World Cup.
He said, "In football anything can happen; unfortunately we couldn't match the expectation of Ghanaians and our own expectations which was to get to the finals.
"Even if we couldn't get the ultimate, the final was our priority. What I would like to say to Ghanaians is that we are sorry but God knows best", he added.