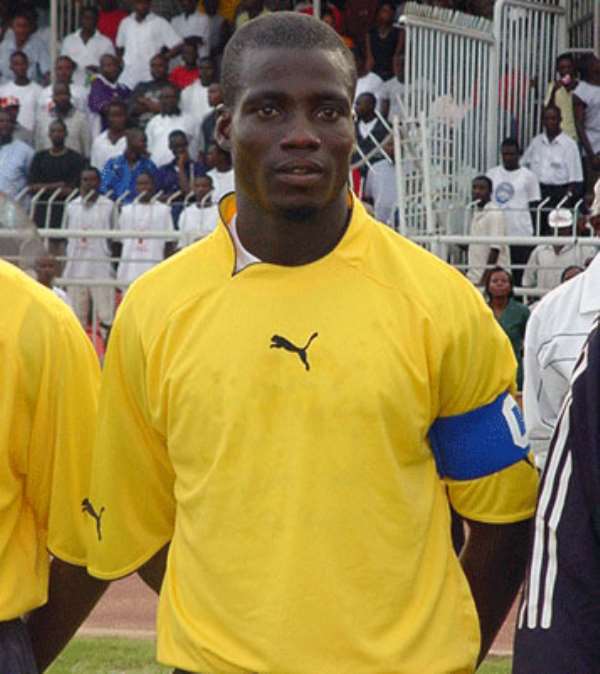 Black Stars captain Stephen Appiah will miss Sunday's crucial World Cup qualifier against Cape Verde because of an ankle injury he sustained at the Olympics. But the 23 year old is on his way to support the national team.
Speaking to GHANAWEB in an exclusive interview on his way to Accra this evening, the Juventus midfielder pointed out that he is travelling to Ghana support his colleagues in camp.
The midfielder's absence is a severe blow to the Black Stars as he leads Ghana's scorers chrt with 3 goals.
He said: "It is my duty as a Ghanaian to give my support to the team but surely I will not play on Sunday. Doctors of have warned me not to play otherwise the injury suffered in our match against Japan could be aggravated."
For the first since assuming the leadership role of the senior national team, Appiah criticized the Ghana Football Association on the treatment meted out to injured national team players. He said: "The GFA does not show concern to players who get injured while serving the nation. He added: "All they are concerned is: when are you arriving to play for the national team?"
He revealed that since Isaac Boakye sustained the injury in the Black Meteors training camp which ruled him out of the Olympics, no FA member has contacted him to wish him well. He said: "Boakye got injured with the U-23 team but no one has called to ask how he is doing since he was operated upon at the beginning of the week."
Boakye was reported to have had an operation last Monday in Germany following the injury he sustained with the Black Meteors. He is expected to be out for 4 weeks. Appiah quizzed: "Do you think this guy will be happy to serve the nation again?"
He said since he got injured during Black Meteors' match against Japan at the Olympics, no FA member has contacted him to check on his health but "to ask when I am coming for the match."
He added that Ghanaian players are in danger of losing their positions in their clubs by participating in national team matches and these sacrifices should be appreciated. He said "No one wants to know about Otto Addo but if he is fully fit, surely he will be invited to play for the Black Stars. These attitudes will have to change."
He said: "I have told some FA officials about this and when I get home I will press it home with the FA Chairman."
On his commitment towards the national team he said: "I will never turn down an invitation to play for Ghana. Ghana and the prayers of Ghanaians have catapulted me to my position in world football today. I am grateful and I will forever serve Ghana." "This is where I will be buried when I die. But attitudes will have to change. The commitment of players will have to be augmented by the FA" he charged.
Appiah started jogging last Monday and is expected to recover fully before the Serie A starts. He debunked recent news reports that Juventus are about to off load him. He said: "I have not been active because of this injury but God willingly when I recover I will play for the first team."
He is expected to arrive in Accra tonight and will join his colleagues in camp tomorrow.