Moving forward: Chelsea may have to leave Stamford Bridge for at least two seasons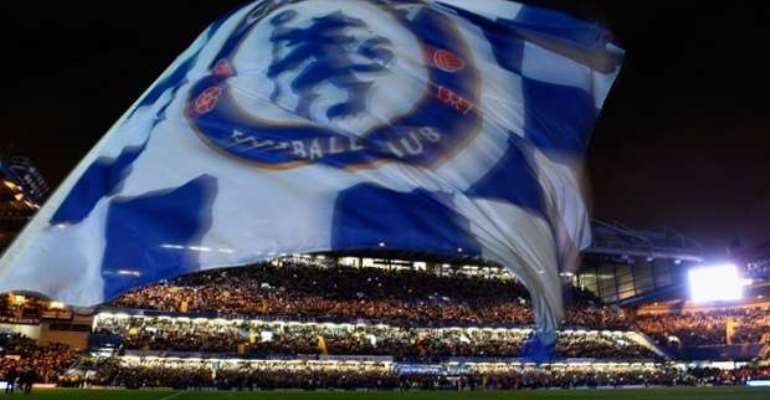 Chelsea's plans to redevelop Stamford Bridge into a 60,000-seat stadium could see them play their home matches elsewhere for at least two seasons should the go-ahead be given for work to begin on their home of 110 years.
The Premier League champions are to reveal proposals to residents and fans at an exhibition at the stadium running from 30 June to 2 July. The consultation meeting will include an explanation of 'the rationale for expansion', with Chelsea , who are restricted by a site comprising around 12 acres when around 20 acres would normally be required for a stadium of the proposed size, likely to build over the adjacent railway tracks. They are also considering digging below street level.
The cost of the project, which would increase the capacity from 41,798 and effectively allow the club to house a new generation of younger fans, could stretch to £500m, which the owner,  Roman Abramovich , would have to meet. Chelsea could rebuild the arena piece by piece, a project which could drag on for three or four seasons while the team continue to play at there, but are more likely to seek to undertake the extensive redevelopment all at once with the team temporarily moving out.
Early estimates suggest they would need to find an alternative ground for at least two seasons. Twickenham has been mentioned as a venue and discussions have taken place with Ian Ritchie, the chief executive of the Rugby Football Union, though there are likely to be objections from residents at the prospect of regular matches at the stadium. Wembley is another option the club would explore, though it would not be feasible under Brent council's existing policy.
Chelsea, who have been in regular contact with their council, are aware this remains a long-term project which could take years to come to fruition. They had considered building at Earl's Court and White City, and were attracted to the prospect of redeveloping Battersea power station to create an iconic ground incorporating the existing building on the south bank of the Thames. However, those plans have long since been frustrated, with the club having now accepted there are no suitable sites available in south-west London for them to pursue.
Abramovich commissioned a study of the area from Fulham Broadway to Stamford Bridge and beyond to examine the possibilities of upgrading the streetscape as well as the stadium. 'The study also began to assess the feasibility of an expansion of the stadium capacity within the existing historical site boundary, based on the principles of improving site access, benefiting the neighbourhood and enhancing the spectator experience,' said the club in a statement. 'Mr Abramovich has appointed a professional team to assess, in more detail, the feasibility of expanding the existing stadium capacity at Stamford Bridge grounds.
'The process now enters a further local consultation phase. This will include an explanation of the rationale for expansion, driven by spectator demand for more seats and the need to increase stadium revenue to remain competitive with our major rivals, this revenue being especially important under financial fair play rules. Technical solutions for stadium capacity expansion are being investigated initially.
'This stage of the consultation will focus at present on discussing the rationale and technical solutions for expansion with residents and match-going spectators. Local stakeholders, neighbours, season ticket holders and club members will be invited to comment on the potential expansion. This feedback, which to date has assisted our progress in earlier stages, will continue to inform the next stage of the study.' The exhibition, which would allow fans and residents to ask questions of potential development ideas, is to be housed in the stadium's east stand.
Chelsea continue to plan for next season's defence of the title, with talks progressing with Monaco over a season-long loan for Radamel Falcao. The French club are keen to bring some of Chelsea's young players to Stade Louis II for a season as part of the deal, with interest confirmed in the Belgium Under-21 international Charly Musonda, 18, and the Croatia midfielder Mario Pasalic, 20, who spent last season in Spain with Elche.
Petr Cech's departure from Chelsea is likely to be smoothed in talks with the club's hierarchy this week, with Arsenal expected to be a prominent suitor of suitors. The 33-year-old is understood to favour remaining in the capital, though Arsène Wenger's side are likely to have to pay up to £11m for a goalkeeper who has 12 months remaining on his contract.