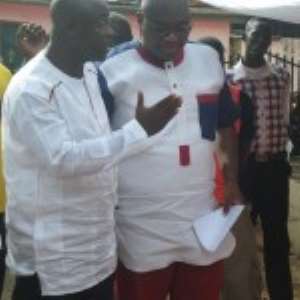 Eric Kutortse with club owner Randy Abbey
Ambitious Ghanaian Premier League side Heart of Lions have revealed plans to build a new stadium.
The club's newly appointed board chairman Eric Kutortse announced work will begin as early as next month.
The Kpando-based side have acquired two brand new buses as well a club house as they attempt to put the club on a professional path.
It is not clear how much the project will cost, but the new stadium will involve the redevelopment of the area including a sports college and surrounding restaurant.
"There are lots of plans on the table for us and we'll ensure this club is put on the right path," new board chair Eric Kutortse said.
"We are going to build our own stadia and work will begin next month.
"All the feasibility studies has been carried out and we know how much it will involve to put up such a facility.
"It's not going to cheap talk but something that will see the light of day."
Lions recorded an impressive 3-1 win over Kotoko last Sunday on the opening day of the resumption of the Ghanaian top-flight.