Nestle Ghana Limited has announced a whooping amount of GHC 10,000 as prize money for the winner of the MILO U-13 Champions which is currently being played at the Zonal Level. The announcement was made during the awards presentation ceremony of the Zone 2 qualifier of the MILO® Champions League at the Sunyani Coronation Park.
Announcing the package, Miss Marilyn Ofori, Brands Manager of Nestle MILO® said "We as a company believe in the development of the future starsfor this country hence the need to commit this huge sum of money to help the winning school to continue developing more talents for the country even after the tournament comes to an end". She also said she believes the authorities of the winning team will also commit part of the money into getting educational materials to help the pupilsget all the necessary tools in their quest to combine education and play football.
Zone 2 was made up of eight schools drawn from the Ashanti and the BrongAhafo regions of Ghana. The eight participating which qualified to play in the Zonal wereAmankwatia, Buobai, Axem Mixed and Buokrom from the Ashanti region and Kintampo Methodist, Atetebubu SDA, Fawohoyeden and Kodiwohia representing the BronAhafo region.
At the end of the 2-day competition, Kintampo Methodist primary called the bluff of Buobai Primary from the Ashanti region by defeating them by 4 goals to 0.
The champions achieved this feat by defeating Atebubu SDA Primary, Fawohoyeden Primary and Kodiwohia Primary.Buobai on the other hand also accounted for Asem Mixed, Amankwatia and BoukromPrimary Schools.
All the eight (8) participating schools were rewarded with cash prizes, cases of MILO® products MILO® branded footballs.
Emmanuel Ayine of Kintampo Methodist Primary Abdul Gafari was adjudged the overall best player of the tournament. Shakibu Rahman of Buobai primary, Vicent Coffie also of Buobai Primary andShaibu Ali of Atebubu primary received awards for being the best defender and goal king and best goal keeper respectively. They all took home cases of MILO® products and branded footballs.
Kintampo Methodist and Buobai will represent the BronAhafo and the Ashanti regions respectively in the National Finals at the Paa Joe Park (KNUST) in Kumasi from the 9th to 11th July 2015.
Meanwhile eight schools from the Western and Central regions are next in line to take their turn in the in Zonal qualifier of the MILO® U-13 Champions Leaguecome the Thursday the 11th and Friday 12th of June 2015 in Takoradi. The two day competition will be graced with the presence of one of tournament's icons Mr. Stephen Appiah, for captain of the senior national team, the Black Stars of Ghana.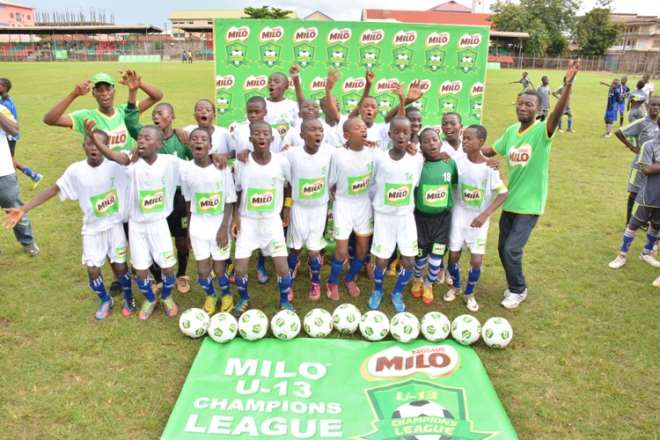 SUNYANI