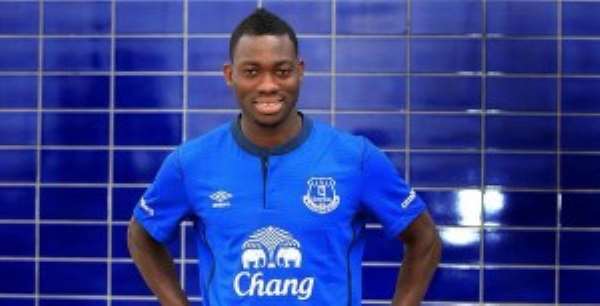 Christian Atsu has been signed to boost the Cherries for next season
Bournemouth boss Eddie Howe says their capture of Ghana star Christian Atsu and three other top players is part of their clever recruitment policy to boost their squad for the difficult task of playing in the English top-flight next season.
The Cherries have found the transfer market "difficult" following promotion to the Premier League but are keen to further bolster their resources.
A flurry of activity at the end of last month saw Cherries draft in no fewer than four players in the space of a week as Howe wasted no time in shaping his squad.
Goalkeepers Artur Boruc and Adam Federici, both free transfers, were joined by frontmen Joshua King from Blackburn and Christian Atsu, signed on a season-long loan from Chelsea.
And while Howe knows additional reinforcements are likely to be necessary if Cherries are to hold their own in the top flight, he also says the club needs to be "clever" with its recruitment.
Howe told the Daily Echo: "We were very pleased to sign the four players and get them tied up fairly quickly.
"The goalkeeping department was an area we wanted to address and I think we have done good business there.
"We have brought in two very experienced goalkeepers who I think will do very well for us. The two outfield signings will both add pace and attacking qualities to the squad.
"We are certainly looking at more players. We are very aware we are entering a new league and a completely different challenge awaits us.
"We are going to be examined and tested more than we have ever been so would like to add more quality to the squad in certain positions to ensure added competition for places. We will wait and see whether we are able to do so.
"Although we have signed four players, we have found it a difficult market so far because the landscape has changed for us. But we are hopeful we can add the players we want before the season starts.
"Like a lot of Premier League clubs, we are finding the figures and sums being bandied about for players involve big numbers. As a result, we have to try to be very clever in our recruitment while continuing to protect the long-term interests of the football club.
"We have been pleased with what we have done so far but there have also been some frustrations. It's not too dissimilar to any other close season but it is different in that we are now a Premier League club.
"Our success in recent seasons has been built on a combination of factors and we must never lose sight of that. We have never signed players just for the sake of it and any we bring in have to improve the squad and complement what we already have.
"We still have a couple of months until the start of the season and will continue to work hard on ensuring our squad is ready and prepared for what promises to be the biggest footballing challenge this club will have faced."
Meanwhile, Cherries have announced two further pre-season friendlies and will visit Exeter City on Saturday, July 18 and Yeovil Town on Tuesday, July 28.