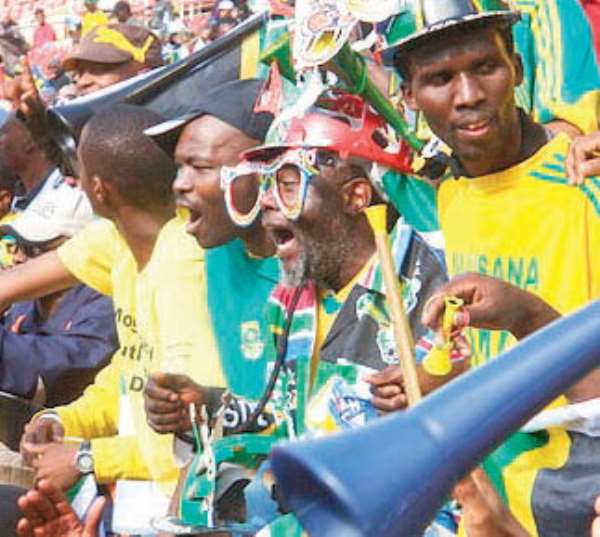 Fans cheer on Bafana Bafana during the World Cup.
An elite police unit in South Africa is to launch a preliminary inquiry into allegations that officials paid bribes to help secure the 2010 World Cup.
The announcement came after an opposition party handed documents to the Hawks unit about the claims of bribery.
Ex-Fifa official Chuck Blazer has admitted in the US that he agreed to take bribes related to the bid.
South African officials have strongly denied that bribes were paid.
The US has launched a wide-ranging criminal case that has engulfed football's world governing body Fifa and led Sepp Blatter to announce his resignation as its president.
An indictment alleges that South Africa paid a $10m bribe to Fifa officials to secure the 2010 bid, ahead of Morocco.
It also alleges that a senior South African official travelled to Paris to hand over cash in $10,000 stacks – in a hotel room, to an unnamed person working for Jack Warner, the former Fifa vice-president and head of the North, Central American and Caribbean Association Football (Concacaf).
Hawks spokesman Brigadier Hangwana Mulaudzi said the US had not asked the South African police to assist with investigations.
The Hawks had opened its preliminary investigation after being approached by the Freedom Front Plus opposition party.
"The Freedom Front Plus came to us on Tuesday and dropped off some documents demanding that we look at them," Mr Mulaudzi is quoted as saying.
The documents are believed to contain information that could implicate senior South African Football Association (Safa) officials.