Premier League on alert as Andre Ayew confirms Marseille exit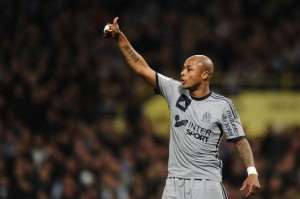 Andre Ayew
Ghana international forward Andre Ayew moved a step closer to a dream move to the English Premier League after announcing he would be ending a 10 year stay at French giants Marseille.
The 25-year-old winger — a member of the Ghana side that lost to Ivory Coast 9-8 on penalties in this year's Africa Cup of Nations final — said despite Marseille still being in contention for a Champions League place next term it wasn't enough for him.
Ayew, whose younger brother Jordan was also at Marseille before leaving for Lorient at the beginning of the season, has attracted interest from several English clubs including relegation-threatened Newcastle, a regular raider of Ligue 1 for players, Spurs, Arsenal and the club he idolised as a boy Liverpool.
"The president (Vincent Labrune) has spoken thus everything has been brought out into the open more or less," said Ayew, who scored 10 goals in 27 appearances this season as Marseille enjoyed a superb first-half of the campaign and top the table before a series of poor results saw them fall off the pace.
"I am going to leave the club and it is a page turned.
"There are lots of thing behind the decision. We tried to find a solution which would enable me to stay but for both parties it was complicated, whether it be for sporting or financial reasons.
"I was expecting more, I wished that the club would have a more competitive team for next year that could be title contenders and that is not certain.
"Also the club cannot offer me the same salary that I'm on at the moment," added Ayew, son of former Ghana and Marseille legend Abedi Pele.
Labrune said that the club simply could not offer the wages an English club could to Ayew, who came through the youth system at the club and became a key player for them in the past five years after returning from a loan spell with Arles-Avignon.
"We cannot keep Ayew," Labrune had told Wednesday's edition of English daily newspaper 'The Independent'.
"He is a very important player for Marseille but we cannot offer him the sums that the English clubs can.
"Unfortunately, he is going to leave the club and we hope he enjoys the great career he deserves in England or elsewhere."