Ghana Boxer Lamptey Loses Super Welterweight Commonwealth And WBC Silver International Champion Opportunity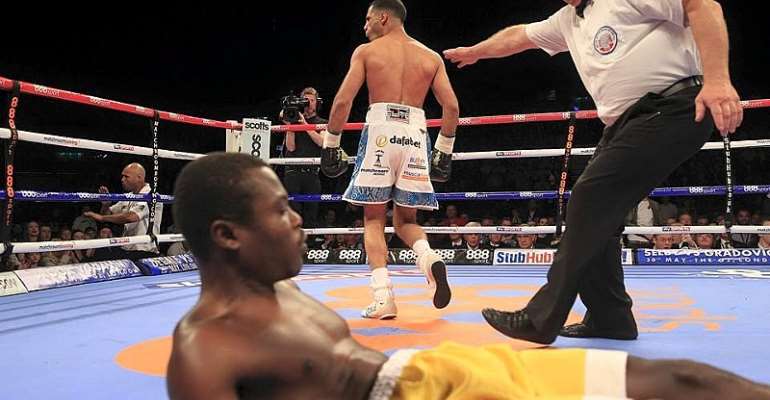 Joseph Lamptey of Ghana lost via 7th Rd TKO against Sam Eggington a Nigerian descent for the new Super welterweight Commonwealth and WBC Silver International Champion.
Eggington got off to a slow start, perhaps due to nerves from fighting in his hometown of Birmingham. Once he picked up the pace, he proved too much for Lamptey to deal with, although Lamptey disputed the stoppage.
Eggington staggered a bruised and fatigued Lamptey in the seventh round of his first 12-round bout. The 21-year-old Eggington immediately pounced, calmly picking his spots as Lamptey seemed unable to do anything except cover up along the ropes.
But just when it seemed the end was near, the Ghanaian began to throw back, producing a wildly exciting trade which Eggington got the better of by landing cleaner and far more damaging punches.
Lamptey's salvo only delayed the inevitable. The referee jumped in after a few unanswered shots, stopping the bout even as Lamptey and his team insisted he could go on.
Eggington admitted he was in dreamland after winning his first major title since turning professional in September 2012.
"It's unreal, it's unreal, I can't put it into words to be fair, it's unbelievable," he told Sky Sports.
"Every day today is different. I was boxing, doing odd jobs and Eddie Hearn gave me a shot against Denton Vassell and since then its sky rocketed, it's brilliant."
"I thought it was the right decision, I caught him with four punches, a combination in a row."
On the same card, Isaac Quaye lost a surprising 1st round TKO to his opponent Kal Yafai in their showdown.
Sammy Heywood Okine
Sports Journalist