Ghana Premier League First Round Statistical Review- 254 goals scored by 121 players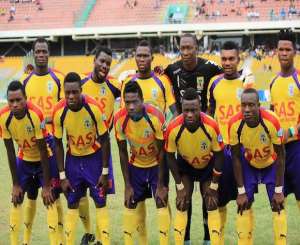 Hearts of Oak
The first half of the Ghana Premier League ended on a high note with the commencement of the second round slated for May 17. Quite a lot happened over the weekend with defending champions Kotoko battering their nemesis Lions whilst league leaders, AshGold failed to put Hearts to the sword.
Unequivocally, the most impressive side in this round has been veteran newbies WAFA. Elsewhere, Inter Allies' exacerbating form continues downhill.
Let's analyze the league from a statistical point of view.
STATISTICS
254 – Total number of goals scored in the first round.
121 – Players who scored in the first half of the league.
2.12 – Average number of goals registered in the first round per game.
12 – Nathaniel Ohene Asamoah (Medeama SC) scored more goals in the first round than any player.
4 – Number of players with 8 goals : Nuhu Fuseini (New Edubiase), Gilbert Fiamenyo (Hearts), Noah Martey (Bechem United) and Stephen Baffour (Brekum Chelsea)
5 – Players with 6 goals each : Sheriff Deo Mohammed (Inter Allies), Richard Arhin  (Aduana), Yakubu Mohammed (AshGold), Amed Toure (Kotoko) and Kofi Owusu (Brekum Chelsea)
2 – Players with 5 goals : Kennedy Ashia (Liberty) and Martin Antwi (WAFA)
5 – Players with 4 goals : Bernard Morrison (AshGold), Doetse Agbashie (Olympics), Mumuni Zakaria (WAFA), Alhassan Nuhu (New Edubiase) and Kwame Boateng (Olympics)
14 – Players with 3 goals each.
18 – Number of players with 2 goals after the first round.
6 – Nathaniel Ohene Asamoah is only the 6th player to score in 3 successive games in the first round. Other players are : Gilbert Fiamenyo, Noah Martey, Nuhu Fuseini, Emmanuel Gyamfi (Wa All Stars) and Amed Toure.
6 – Non-Ghanaians to have scored in the league : Amed Toure, Niare Benogo (Inter Allies), Petrus Shitembi (AshGold), Arnold Bosson (Hearts), Shaun October (Hearts) and Didier Kore (AshGold)
8 – Nathaniel Asamoah scored against 8 different teams in the first half of the league more than any player.
438 – Sekondi Hasaacas have not won an away game in 438 days (1 year, 2 months, 2 weeks), thus 15 matches. Last away win : 3-2 vs Amidaus (15/12/13)
31 – Brekum Chelsea are unbeaten in 31 home matches. No club has a better home record in recent times.
5 – Frederick Yamoah (Inter Allies) and Amed Toure have assisted more goals than any player.
10 – After conceding just 2 goals in their opening 7 matches, Inter Allies have conceded 10 goals in their last 8 matches.
 2 – Only Kotoko (W3, D2) and Olympics (W2, D3) are unbeaten in their last 5 matches in the league.
405 – Richard Kingson need 405 minutes (6 hours 45 mins) to concede his first goal whilst in post for Olympics this season, thanks to Bernard Ofori (New Edubiase)
2 – Kotoko are only the 2nd club to win a game by 3+ goal margin in the league (vs Lions) after Medeama's 3-0 win over New Edubiase.