Manny's secret weapon is Isaiah 41:10; wants Mayweather to meet Jesus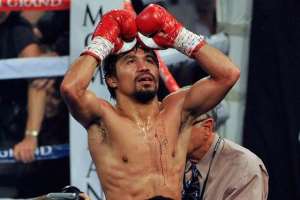 Manny Pacquiao is very open about his Christian faith–at his final fighter's press conference on Thursday, for instance, he completed his remarks with "Jesus is the name of the Lord."
Before the presser, For the Win asked the challenger in Saturday's "fight of the century" to share the Bible verse he's focused on during his training to fight as-yet undefeated Floyd Mayweather.
"That's why I have peace of mind - because of the word of God. In Isaiah 41:10 it says 'So do not fear, for I am with you; do not be dismayed, for I am your God. I will strengthen you and help you; I will uphold you with my righteous right hand.'
The eight-division world champion goes further to state his true objective for wanting to beat Mayweather.
"But the most important thing is that, I am hoping that after the fight I can have a conversation with Floyd sharing my faith about God and how to believe in him so he can inspire those children who are looking to support us," he said in Las Vegas.
Manny attributed his success in boxing to God who, he says, deserves credit for the rags to riches status he enjoys.
"Before I became I boxer I used to sleep in the streets, hungry and now I cannot imagine the Lord has raised me in this position and blessed me with blessings I cannot imagine. I just want you to know that, everything I have accomplished is God who gave me the strength. I just want to be an example and inspiration to everybody".
Maywether remains undefeated and with the spectre of religion hanging heavily over this fight, it suddenly looks as if the soul of boht boxers has come in to the equation .
Follow Gary on Twitter: @garyalsmith
Story by Ghana/Joy Sports/Gary Al-Smith