Sites sued for intending to steal Mayweather-Pacquiao fight feed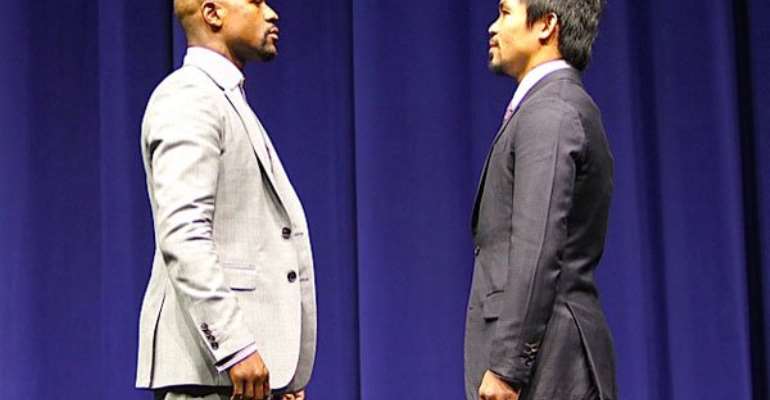 The two promoters and two broadcasters of the Floyd Mayweather-Manny Pacquiao fight filed a lawsuit in district court in California against two websites and their owners, accusing them of intending to steal the feed of the pay-per-view fight to broadcast on their own for free.
The pre-emptive lawsuit, filed Tuesday by Mayweather Promotions and Top Rank, together with HBO and Showtime, seeks a temporary restraining order against boxinghd.net and sportship.org. The sites advertised they would broadcast the fight, and the lawsuit claims a violation of federal copyright laws that would damage relationships with both consumers and carriers.
Pay-per-view providers are selling Saturday night's fight for between $89 and $100. No online streaming has been authorized by the content owners.
"Our pay-per-view viewers are paying a premium price for the Mayweather Pacquiao superfight," said Mark Taffet, senior vice president of sports operations and pay-per-view at HBO. "HBO and Showtime believe that fighting piracy and stopping content theft is crucial to maintain our ability to provide customers with world-class programming."
Boxinghd.net, which according to the lawsuit offered a link on its home page to watch the fight for free, was no longer online as of Wednesday afternoon. The site, the lawsuit alleges, had illegally archived video of previous fights, including Mayweather-Guerrero from July of last year.
Taffet would not specifically talk about HBO's and Showtime's efforts to cut down on piracy on fight night, but sources with knowledge of the plans say it will likely be the largest anti-piracy effort in sports history. That effort includes the hiring of companies that will be monitoring infringing links and seeking to immediately deactivate them. This doesn't come as a surprise given the record price for the pay-per-view, which is $20 more than any other fight, making it more likely that people will try the illegal alternative.
Taffet would not give specific numbers but did say that a national effort by HBO and Showtime to get people to order the fight before Saturday night has paid off. The cable channels, in cooperation with the handful of pay-per-view providers who control roughly 3,000 local suppliers of the broadcast, have heavily advertised the fight not only on consumer billing statements but also on social media and in print ads.
Roughly 90 percent of pay-per-view orders occur within hours of the fight, but because a record number of orders is expected, pre-Saturday ordering is in a viewer's best interest.
"We do know that there will be more first-time pay-per-view buyers for this fight than any event in pay-per-view history," Taffet said.
The fight is expected to shatter the 8-year-old record of 2.48 PPV buys for the fight between Mayweather and Oscar De La Hoya in 2007.
Together, Mayweather and Pacquiao have been responsible for 29.9 million PPV buys over the course of their careers, generating a combined $1.55 billion in revenue.
What makes this fight the "perfect storm," promoters say, is that Mayweather brings the crowds in the eastern and northern United States, while Pacquiao carries the South and the West.
Taffet on Wednesday played down the cost of the fight.
"This is a super-premium event that fans have been talking about for five years," he said. "It features two of the biggest and the best fighters in the sport. When you consider how many people will have large watch parties, the cost per viewer will be similar to a movie theater ticket."