McDan Takes Tennis Higher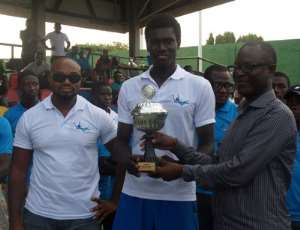 New winner Darko flanked by McKorley (L) and Dr Ahmed.
After a successful second edition of the Mc Dan Tennis Open in Accra, Executive Chairman of the McDan Group of Companies, Daniel McKorley has promised to take the tourney beyond the borders of Ghana.
In his remarks on the final day of the five-day championship at the Tennis Court of the Accra Stadium last Saturday, he said: 'Today marks the end of hosting the event. It will go to West Africa next year.
'We are taking Ghana tennis to another level. I am really impressed with the level of competition. What we have witnessed in the past four days attests to the abundance of talents in the country.
'We have put measures in place to make it an ITF-ranked event in subsequent editions where participants would be ranked. I am glad we have delivered on all the promises we made.'
Youth and Sports Minister Dr Mustapha Ahmed commended the title sponsor McDan for coming on board to breathe life into the sport, and expressed the hope that other corporate bodies would follow suit
'This tournament, indeed has served as one of the preparatory grounds for the forthcoming All African Games,' said the Minister.
Winners in this year's championship will receive a double portion of the prize money they received in the maiden edition.
Top seed, George Darko wrested the title from defending champion Japhet Bagerbaseh with a 7-5, 6-4 win to run away with the GH¢2,000 cash prize, two sets of rackets, cartons of soft drinks and a glittering trophy.
Francisca Nyarko struggled to defeat nursing mother Kate Coleman in a two straight win to receive a trophy and a cash prize of GH¢1,000.
Participants from the round of eight through the quarters, semi final and losing finalists went home with cash prizes.
The competition was sponsored by the McDan Group and supported by the Ghana Tennis Federation (GTF), AfWest Security, Automedics, Babolat and the Platinum Sports Channel.
By Kofi Owusu Aduonum