BBC Women's Footballer of the Year Shortlist announced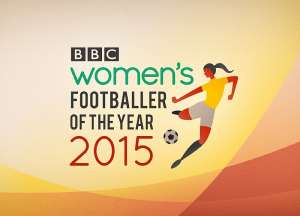 BBC World Service has announced the shortlist for the inaugural BBC Women's Footballer of the Year competition and voting is now open. The five shortlisted footballers are:
VerónicaBoquete (Spain and FFC Frankfurt)
Nadine Kessler (Germany and VFL Wolfsburg)
Kim Little (Scotland and Seattle Reign FC)
Marta (Brazil and FC Rosengard)
AsisatOshoala (Nigeria and Liverpool)
The shortlist was announced during Canada Calling on BBC World Service's programme Sportsworld. Broadcasting live on BBC World Service radio each month, Canada Calling features women's football news and views from across the globe ahead of the 2015 FIFA Women's World Cup in Canada.
Fans can vote online and using their mobile phone or handheld device, at bbc.com/womensfootball . Voting is also available by SMS to +44 7786 20 20 04: Text 1 for Veronica Boquete, 2 for Nadine Kessler, 3 for Kim Little, 4 for Marta or 5 for AsisatOshoala.
Mary Hockaday, Controller of BBC World Service English said: "With anticipation building ahead of the Women's World Cup we're thrilled to announce the shortlist for the first BBC Women's Footballer of the Year award. The five shortlisted players represent an incredible array of talent and show the growing strength of the women's game. The vote is now open to fans to choose their favourite player."
The vote will close on Monday 11th May at 10am and the winner of the BBC Women's Footballer of the Year 2015 will be revealed on the BBC World Service on 26th May 2015. The shortlist was selected by a panel of experts including administrators, journalists, coaches and former players.
VerónicaBoquete said: "I'm really, really happy to be shortlisted. It means I've been doing a good job over the last year and it's also an extra motivation for the future. To have all the media talking about this award is really important to help our sport grow. I'm playing for me, my country and the girls who are coming through."
Nadine Kessler said: "I am very honoured to be nominated for the BBC Women's Footballer of the Year Award. It is a special Award because this time the fans are given the opportunity to vote for the players. For us football players the support of our fans is extremely important. That's why in Germany we call them the 12th man on the field."
Kim Little said: "Considering the competitiveness and the amount of great players there are worldwide, it's extremely nice to be recognised. I get to say football's my job when it doesn't really feel like I'm doing a job. I get to come and train every morning and travel the world. It's probably the best job I could possibly dream of."
Marta said: "I feel very happy to be nominated and already feel victorious just for being in the final five. It's very special because you are being judged by the public, the people who follow you. When I was younger I had to overcome many things: I was the only girl and I used to have to play with the boys. It was complicated and difficult. It's better today - the girls don't have the same difficulties being accepted."
Asisat Oshoala said: "I worked hard last year but I am surprised to be nominated and I feel very appreciated. This award is a very good thing for women's football. It can really help us by encouraging other countries to support their ladies more and treat them the same way they treat the men. A lot of people tried to discourage me but I never let that bother me – I did what I want to do."
Audiences can follow the competition on TV through Sport Today on BBC World News, on radio through Sportsworldand Sport Today on BBC World Service, and on the dedicated pages online on the BBC Sport website.
Information and updates on the competition will also be available on social media on BBC World Service's Facebook and on Twitter via @bbcworldservice. Audiences can get involved by using the #bbcwfoty hashtag.
Competition and voting information:
SMS texts are limited to one text per mobile phone number. Standard international text rates apply. Please check with your service provider. Further details about the awards and T&Cs are online at www.bbc.com/sport/0/football/32403506