Kwarasey defends post-World Cup outbursts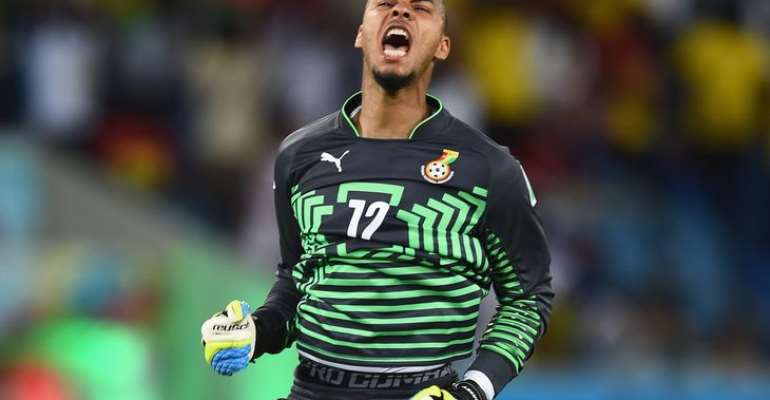 Ghana goalkeeper Adam Larsen Kwarasey his vitriolic post-2014 FIFA World Cup comments were fuelled by the distractions in camp.
The Black Stars failed to progress from the Group stage for the first time in three editions after losing to USA and Portugal and then drawing with eventual winners Germany.
There were a lot of disquiet and agitations in camp as players threatened to boycott their final match because of unpaid bonuses and appearance fees.
Kwarasey, himself, was bitter after he was dropped after the Group opener against USA which Ghana lost 1-0 despite putting up a good showcase.
He fingered goalkeepers' trainer Nassamu Yakubu for influencing then coach Kwesi Appiah's decision to replace him with Fatau Daudu.
The 27-year-old blasted Yakubu by questioning his credentials and leveled favouritism allegations against him.
"It was a lot of feeling after the World Cup. I was disappointed and everybody else was disappointed. We all wanted to do better and we failed and a lot of issues came up that we are not proud of," Kwarasey told Allsports.com.gh
"I [Adam Kwarasey] don't want to say anything bad about anybody but I always say [coaches] must always try and get the best out of their players and in my situation I did not feel that the people in charge at the time were capable of helping me to reach my full potential because when I got to camp before the World Cup I felt really good and I was in great form but by the time our tournament ended, I was not in that same form so somewhere along the line something must have happened."
The Portland Timbers new signing added:"I am done with that but what I want to say that we should have been able to get to our full potential during the tournament but we didn't and that is sad for us because that tournament will never come back."