Michael Anaba picking up vital experience ahead of Elche first team breakthrough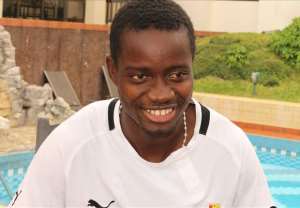 Michael Anaba
Ghanaian youngster Michael Anaba says he is picking up vital experiences as he battles his way into the first team of Spanish club Elche.
The 21-year-old is yet to make his first team debut for the Valencia-based club.
Anaba has been a regular for the Elche B side since joining the club in 2013.
The former Ghana U20 star is confident his first team opportunity will eventually come but wants to make the most of the learning process.
"I get playing time with the second team but my aim is to play with the first team," told Starr FM.
"I have got the opportunity to travel with the team to games but I don't normally get the opportunity to play.
"I sometimes watch from the stands but I am learning a lot and its part of life."