It is not done: Herbert Mensah cautions K.K Sarpong over legal battle against Kotoko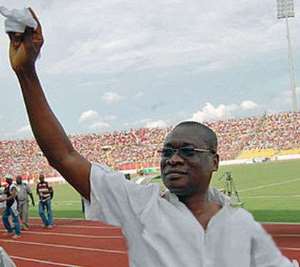 Herbert Mensah is calling on Dr. K.K to Dr K.K Sarpong to settle his differences with Asante Kotoko amicably, following the decision of the latter to drag the club to court for an unsettled debt
Dr. Sarpong , who was appointed in 2010 as the Executive Chairman of Asante Kotoko loaned the club GHC 450,000 for player transfer in his first season.
The former Tema Oil Refinery boss after serving the team on a 3-year term took the decision to resign and following several attempts to get the GHC 450,000 he loaned the club failed, he has resorted to court action to get his money back.
However, Herbert Mensah, who is one of the renowned ex Kotoko chairmen has warned DR. Sarpong to tread  cautiously in dealing with the issue, else he could pay a price for that.
'I will like to put it on record that when you enter Kotoko it changes your life, very few people leave Kotoko and are still standing,'
'Your drain your sweat, your emotions , your money into the club that you love and with what you love you are not expected to now go and demand from your wife oh I bought you this shirt so give it back to me, Mensah told Atinka FM.
'I mean it is a very peculiar thing for an educated person to do. 'The other thing is this, that when you enter into Asante Kotoko, you're there as a special request and guest of Otumfuo and so if you don't believe in the power of the seat of Otumfuo then you should not be at Kotoko, you should not be chairman of Kotoko.
'It is an institution that is not like any corporate entity..the club belongs to the people and the spiritual head is Otumfuo.
'You have to be so careful when you run Kotoko, you can't run it as your private business but on the other side it is still an institution which makes it the biggest club in Ghana and one of the biggest in Africa.
'So when you finish, you cannot go and take on the spiritual head of the club to say you're taking him into a court.
'People have done it but now look at what has happened to some of them who have done it..all they've in their life is bad luck.
"Although I have not met him before, I will advise him to withdraw the issue from court.
Herbert Addo was the Management Committee Chairman of Kotoko from 1999 to 2002, but despite being fans favourite he was relieved of his post by Otumfuo the life patron of the club due to power wrangling with the board chairman at the time, the late P.V Obeng.
It is on record that Herbert Mensah walked out of Kotoko by transferring some Kotoko players he bought with his own money like Godwin Abblodey, Kwadwo Poku to his next club which was King Faisal.