Ghana Athletics Federation unaware of Simpson's reported nationality switch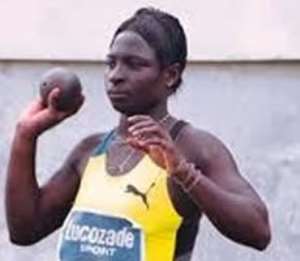 The Ghana Athletics Association (GAA) claims it is unaware of a report saying heptathlete Margaret Simpson has quit competing for the country.
Simpson has announced her decision to switch nationality from Ghana to Mauritius after expressing disappointment in the management of the Ghana Athletics Association.
Dominic Kamkam, General Secretary of the Ghana Athletics Association in an interview with Joy Sports noted that his outfit is also treating the information as a rumour because the athlete has not officially informed the association of her decision.
"We have not received any form of communication from Margaret Simpson or the Mauritius Athletics Federation," said Kankam.
"She made the same statement last year but we are yet to get an official notification from her.
"With a switch of nationality it is a whole process, usually there should be a correspondence from the other federation saying that do you give your consent to this or that but that is hasn't happen."
The 31-year old won gold at the 2002, 2004 and 2010 African Athletics Championship in Tunis, Brazzaville and Nairobi.
Simpson intends to run for her new nation in the coming All Africa Games to be held in Congo-Brazzaville later this year.